Teen sues cop who tackled her, city for $5mn over McKinney pool party incident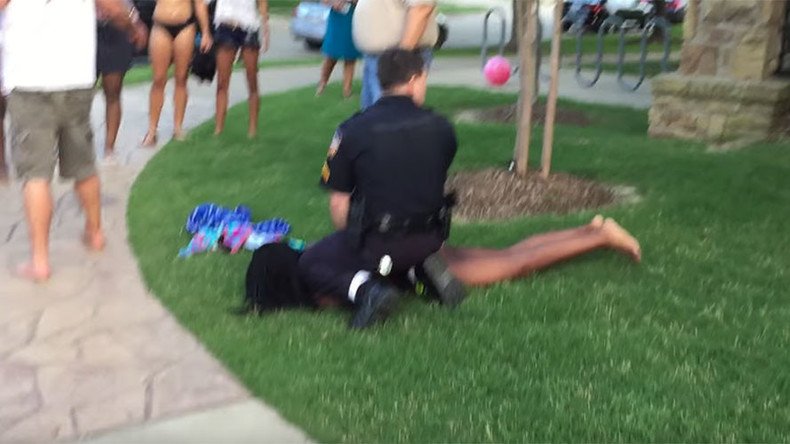 The black teenager who was thrown to the ground by a police officer at a pool party in McKinney, Texas is suing the city, police department and former officer Eric Casebolt.
Dajerria Becton claims Casebolt used excessive force and that the police force wasn't properly trained. Casebolt was captured on cellphone video pushing the 15-year-old, bikini-clad Becton to the ground at a pool party in June 2015 and pointing his gun at other teens, as well as briefly running after other teenagers before being stopped by fellow police officers. About a dozen officers had responded to reports of teens fighting at a community pool in the Dallas suburb.
The footage of the white officer tackling the black teen and shouting obscenities at others went viral and sparked outrage in the community and throughout the country. Casebolt quit his job after McKinney Police Chief Greg Conley said Casebolt was "out of control" and that his actions were "indefensible."
Becton, now 16, and her legal guardian, Shashona Becton, are seeking $5 million in damages from the federal lawsuit. They claim that Casebolt used excessive force when he pushed Dajerria onto her stomach and kneeled on her back, and that he held her without probable cause. The family also blames the former officer for her injuries suffered in the incident after he "twice violently [slammed] her face toward the concrete sidewalk," the lawsuit said.
"The entire time… she could do nothing but cry out in pain and repeatedly beg for her 'Momma' as she endured the pain inflicted upon her by Defendant Casebolt's physical assault," the complaint added.
WARNING: VIOLENCE, GRAPHIC LANGUAGE
The court documents accuse the city of McKinney and its police department of "a record of not providing MPD officers with adequate training, not preventing excessive force by McKinney Police officers, especially as it relates to youthful offenders," adding that McKinney PD officers are trained by people "with little or no experience working in the field."
Casebolt had previously been accused of excessive force during a 2007 arrest, though that lawsuit against him and other officers was dismissed two years later.
A 2008 lawsuit accused the McKinney Housing Authority of racial segregation in public housing. That case was settled in 2012 with a consent decree, meaning that the city agreed to take specific actions to address the issues without admitting any guilt in the case, the Fort Worth Star-Telegram reported.
Although Conley conceded that Casebolt arrived at the scene already "out of control and the video showed he was out of control during the incident," the police chief distanced the department from Casebolt saying, McKinney PD's "policies, our training and our practice do not support his actions."
A grand jury declined to indict the former officer last year.
The city and police department has dismissed the Bectons' claims, and said it "will vigorously defend" themselves against the lawsuit. "McKinney prides itself in cultivating the highest standards of training and professionalism for our officers, and it strongly believes that its standards and training will withstand legal challenge," the city said in a statement.
Dajerria is seeking compensatory damages for mental anguish, loss of quality of life and attorney's fees, plus interest. She is also requesting punitive damages.
You can share this story on social media: