'Broken promises' or 'sick again'? New Congress draws battle lines over Obamacare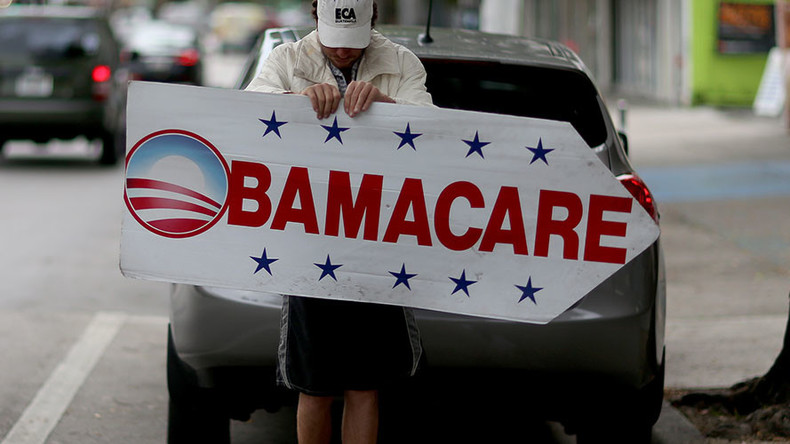 As the Republican leadership of the 115th Congress prepares to fulfill US President-elect Donald Trump's campaign promise of repealing and replacing Obamacare, Democrats are digging in to defend President Barack Obama's signature healthcare law.
Following a two-hour meeting with Obama on Wednesday, the congressional Democratic leadership accused the Republicans of wanting to "make America sick again" and throwing the US economy into chaos by repealing Obamacare, officially known as the Affordable Care Act (ACA).
READ MORE: New faces, old quarrels: A look at the 115th US Congress
Senate Minority Leader Chuck Schumer (D-New York) described the GOP as the "dog who caught the bus" and then doesn't know what to do with it. Repealing the ACA would cause insurance premiums to skyrocket and hurt rural hospitals in the Republican heartland, he argued.
"Republicans should stop clowning around with the people's Medicare, Medicaid and healthcare," said Schumer, responding to a series of tweets by Trump that described congressional Democrats as "Schumer clowns."
House Minority Leader Nancy Pelosi (D-California) argued that Obamacare succeeded in curbing the growth of healthcare costs, which were "unsustainable" before, and called it a "pillar of economic and health security for the American people."
"Republicans attempting to repeal the ACA have nothing to replace it with," said Elijah Cummings (D-Maryland), the top Democrat on the House Oversight and Government Reform committee. He cited polls showing that Americans do not want the ACA repealed, but "don't mind it being improved."
"President-elect Trump made it clear that we would not have people dying in the streets, and we are going to hold him to that," Cummings said.
The Republican majority, on the other hand, is determined to dismantle Obamacare as soon as possible. Vice President-elect Mike Pence made the emphatic announcement at a press conference Wednesday, flanked by the House GOP leadership.
"The first order of business is to repeal and replace Obamacare," said Pence, arguing that the ACA has "worked a hardship on American families and American businesses."
"The healthcare system has been ruined, dismantled under Obamacare," said Speaker of the House Paul Ryan (R-Wisconsin). "This law has failed."
On the other hand, Pence cautioned that the GOP plan is still in the works and that the Trump administration wanted an "orderly transition" to avoid inflicting additional hardships on families endured under the ACA.
"The promises that were made were all broken," Pence said. "We're going to be in the promise-keeping business."