'Disturbing use of force': NC officer slams high school girl (VIDEO)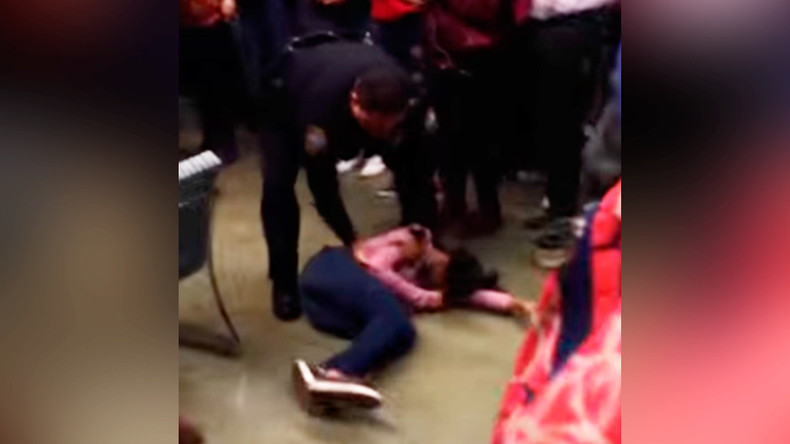 Authorities in Rolesville, North Carolina are investigating an officer who was caught on tape hoisting a female high school student over his head and throwing her to the ground before picking her up and carrying her off.
An eight-second video, which has gone viral, shows School Resource Officer Ruben De Los Santos surrounded by shouting students at Rolesville High School. The officer throws one of the girls to the ground, subdues her, and walks her out of the frame.
Desiree Harrison, the student's mother, said that her daughter had been checked out at the hospital after suffering a concussion. She said that she is an honor roll student and that she now plans to move her to another school, according to WTVD.
Wake County Public School immediately responded to the video on Twitter, thanking the person that posted it and saying they were working with local police to investigate the matter.
A statement from the school's principal says that, after becoming aware of the incident, they contacted the local police department, which "placed the school resource officer on administrative leave and began an immediate investigation."
The Rolesville Police Department then put out their own statement, which said that they had "officially requested that the North Carolina State Bureau of Investigation conduct a third-party review of the incident."
Officer Ruben De Los Santos has been placed on paid administrative leave pending the outcome of the investigation.
De Los Santos has been assigned to the school as a resource officer since February of 2012, according to his LinkedIn page. The Wake County Public School system uses armed police officers at every high school and most middle schools. The officers are meant to provide security, teach classes, and counsel students.
The American Civil Liberties Union (ACLU) also weighed in, calling the event a "disturbing use of force" in a tweet, which also asked witnesses to come forward with any additional information.
Disturbing use of force at #rolesvillehigh that should never be used against kids in schools. Contact us if you have info about incident.

— ACLU-North Carolina (@ACLU_NC) January 3, 2017
Soon after the first video appeared, another surfaced showing the events leading up to the incident, which provided additional context.
The second video shows two girls throwing punches at one another and hitting nearby adults, ultimately fighting each other to the ground.
The person who posted the second video, Aisha Nasser, said she didn't think De Los Santos meant any harm, according to WTVD.
"He's one of the kindest officers I've ever come across," said Nasser. "Seeing the whole situation first hand it was out of control and he was just trying to gain control of the situation and I know it wasn't his intention to hurt that girl."
Mayor Frank Eagles said that all officers had been issued body-cameras last August, and footage should be available soon.
You can share this story on social media: