Cop under investigation after punching girl in Philadelphia brawl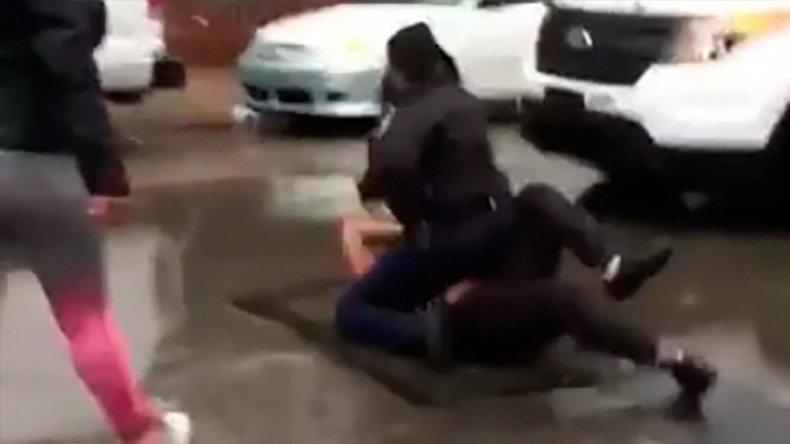 A police officer in Philadelphia, Pennsylvania is being investigated after striking a juvenile during a street fight. The incident was captured on video and posted on multiple social networks.
Police was called to the intersection of 54th Street and Springfield Avenue in southwestern Philadelphia to break up a fight involving about 30 teens on Monday afternoon, WCAU reported. The street brawl was captured on video and posted to Instagram, Facebook and WorldStarHipHop.
During the mass brawl, the Philadelphia Police Department and online viewers, was the confrontation between a female officer and a teenager she was trying to drag away from the melee. The girl is seen shoving and yelling at the officer as the camera pans away. Moments later, the officer is seen throwing the teen girl on the ground and pummeling her.
"They threw me against the car and they slammed her on the ground," the girl's legal guardian told WCAU, declining to be identified.
Takeema Bundy, who witnessed the brawl, told WCAU the girl had lost her mother recently and was just trying to break up the fight.
"She's 16 years old," Bundy said. "I don't think she deserves that. The cop shouldn't have done that. That lady was like 30 something."
The teen, who has not been identified because she is a minor, is currently in police custody. The officer's actions are being investigated by the Internal Affairs Division.
That cop fist fighting in that street brawl in Philly was the most hood thing I've seen in a minute 😩😂

— B (@bmk1994) January 3, 2017
You can share this story on social media: