Search for 6 missing people aboard disappeared plane suspended – Coast Guard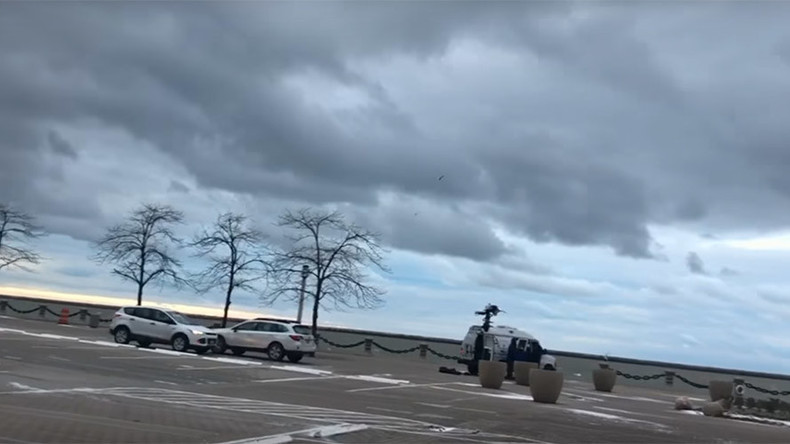 The search for a plane that vanished over Lake Erie has been shelved by the US Coast Guard. The plane was carrying six passengers, including a beverage distribution company executive, his wife and their two sons.
An aircraft headed to Ohio State University Airport on Thursday vanished over Lake Erie shortly after takeoff from Cleveland, Ohio. The Coast Guard suspended their search-and-rescue efforts Friday to allow local authorities to begin recovering the plane and victims.
John T. Fleming, CEO of the Superior Beverage Company, was piloting the plane before it indicated a rapid altitude loss and lost radar contact. The time between takeoff and air traffic control notifying the Coast Guard of the missing plane was about 30 minutes, the Associated Press reported.
Also on board were Fleming's two sons, wife, his neighbor and the neighbor's daughter.
Coast Guard Captain Michael Mullen told reporters Friday that authorities had detected some hints from an emergency locating transmitter on board, but Mullen explained that it was not strong enough to locate the plane. He added that so far searchers had not found any signs of debris.
"The decision to suspend a search is never easy," Mullen said. "I extend my deepest condolences to the family and friends of those who lost loved ones during this tragedy."
The odds of the families surviving are extremely slim.
"Aircraft are not designed to float, especially in 12-foot seas," Mullen said.
Attempts to find the plane overnight were obstructed by poor weather conditions that reduced visibility and prevented smaller Coast Guard boats in the Cleveland area from launching.