'We will watch you': Bilderberg website hacked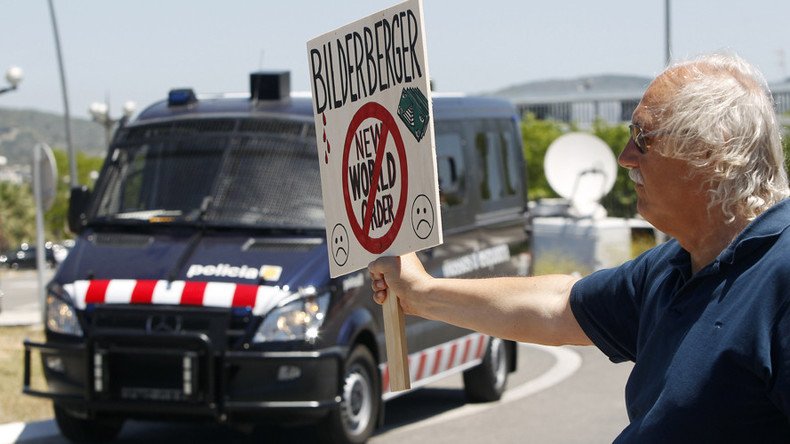 Hackers have taken down the website of the Bilderberg Club, replacing the shadowy organization's page with a warning that the Atlanticist elites have a year to work for the benefit of humanity or their assets will be hacked next.
"Dear Bilderberg members, from now on, each one of you have 1 year (365 days) to truly work in favor of humans and not your private interests," the hackers, who identified themselves as the "HackBack movement and Anonymous," said in a message posted at bilderbergmeetings.org.
"Otherwise, we will find you and we will hack you," they threatened the "Wealthy Elitico-Political 1 percent."
"Mind the current situation: We control your expensive connected cars, we control your connected house security devices, we control your daughter's laptop, we control your wife's mobile. We tape your secret meetings, we read your emails, we control your favorite escort girl's smartwatch, we are inside your beloved banks and we are reading your assets. You won't be safe anywhere near electricity anymore," the hackers said.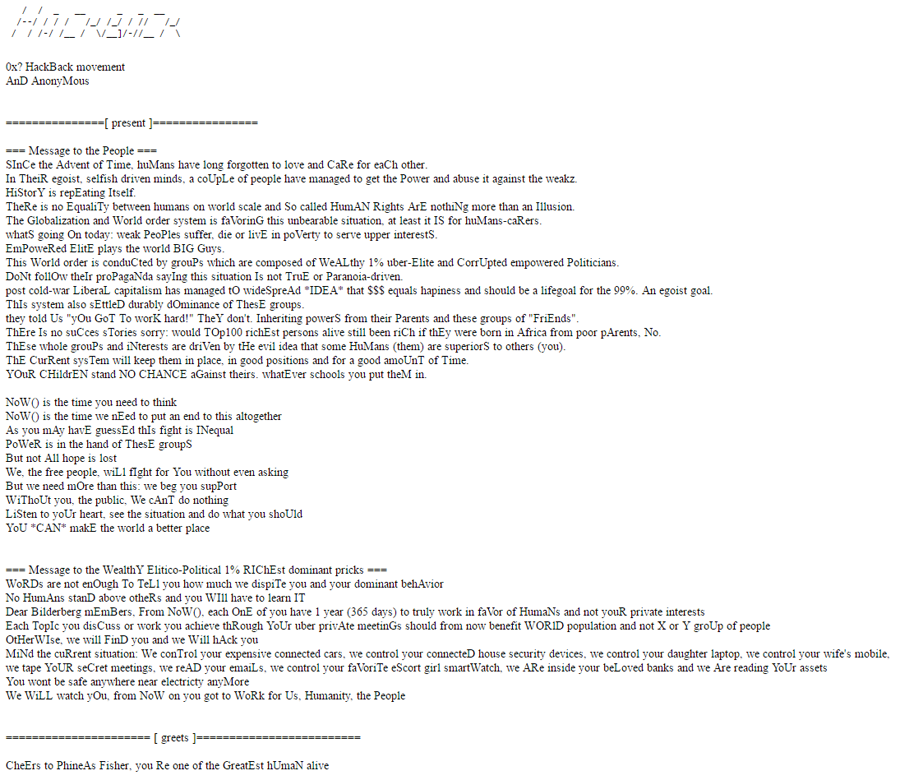 The Bilderberg Club is a group of European and American leaders from the fields of politics, industry, finance, media and academia who have met annually since 1954. Their meetings are notoriously closed to the public and blacked out to press coverage.
The most recent Bilderberg conference, the group's 64th, was held in Dresden, Germany in June 2016.
READ MORE: Bilderberg 2016: World's top brass meets in Dresden to talk migrants, Brexit and US elections
A cryptic note at the end of the hackers' statement praises Phineas Fisher as the "greatest human alive." Fisher is a self-described hacktivist who claimed responsibility for hacking the British-German surveillance company Gamma International in 2014 and cracking the Hacking Team in 2015. He also took credit for taking more than 300,000 emails and documents from Turkey's ruling AKP party in June 2016; the documents were subsequently published by WikiLeaks.
You can share this story on social media: