US Navy ditching million-dollar ammo for stealth destroyer - report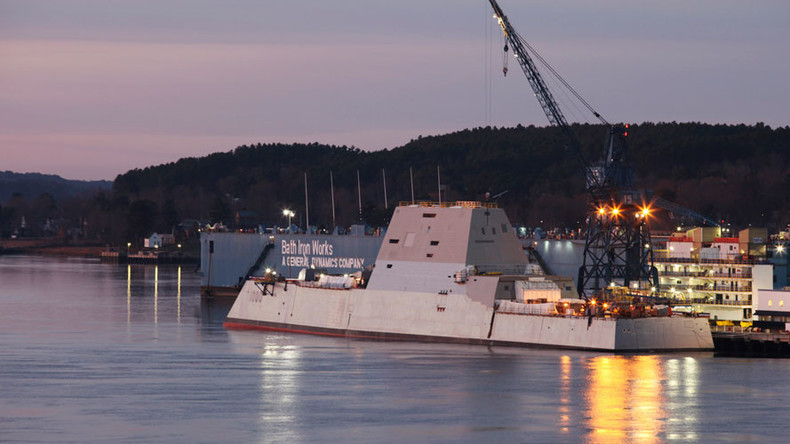 The US Navy is looking at three new ammunition options for its most advanced warship as, at up to $1 million a pop, the current rounds are reportedly too expensive.
The 16,000-long ton (16,256-metric ton) USS Zumwalt is the US Navy's newest and most advanced destroyer. It carries two huge guns that can hit targets 63 nautical miles (116 kilometers) away by firing Long Range Land-Attack Projectile (LRLAP) rounds.
READ MORE: 'Unmitigated disaster': US Navy's Zumwalt destroyer project blasted as wasteful & incapable
Manufacturer Lockheed Martin say the rounds are "both the most accurate and longest-range guided projectile in US Navy history."
However, as RT.com reported in November, the navy canceled their order of LRLAP shells due to the high cost - between $800,000 and $1 million per round.
Because they are the only round designed for the Zumwalt's Advanced Gun System, the navy has few options in their search for replacements. They are believed to be considering Raytheon's 155 millimeter Excalibur 1b, BAE Systems' Multi-Service Standard Guided Projectile (MS-SGP), and the Hyper Velocity Projectile (HVP).
Jane's Defence Weekly are reporting that the Navy is leaning towards Excalibur because it is the only one of the three alternative projectiles currently in production. It costs about $68,000 per round, according to the publication.
Raytheon's website says"the Excalibur weapon provides accurate first-round effects at all ranges in all weather conditions. By using the Excalibur projectile's level of precision, there is a dramatic reduction in the time, cost and logistical burden associated with other artillery munitions."