US prison population lowest in years but 2.1mn still locked up – report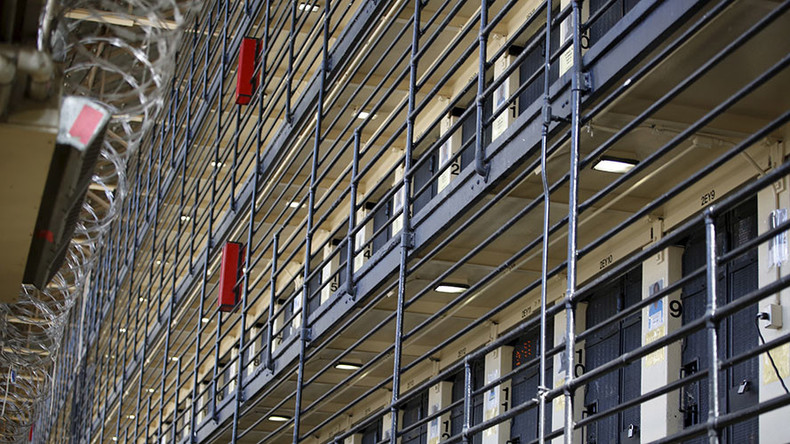 The US prison population fell to its lowest levels in seven years, dropping 2.3 percent in 2015 to 2.1 million people incarcerated in federal and state prisons and local jails. However, the US still has the world's highest incarceration rate.
At year-end 2015, an estimated 2,173,800 people were either under the jurisdiction of state or federal prisons or in the custody of local jails in the US, down about 51,300 people from year-end 2014, according to the Prisoners in 2015 report released by the Justice Department on Thursday.
"This was the largest decline in the incarceration population since it first decreased in 2009," stated the Bureau of Justice Statistics in a statement.
The decrease is attributable to a drop in prison admissions and an increase in releases at the state level, as well as a fall in prison sentences lasting more than one year.
"Forty percent of the decrease in the total prison population from 2014 to 2015 can be attributed to a decline in the number of inmates under Federal Bureau of Prisons (BOP) jurisdiction which decreased 7 percent (14,1000) inmates during this period," stated the report.
Overall, about one in 37 adults was under some form of correctional supervision, including incarceration, probation or parole – at the end of 2015.
There is bipartisan Congressional support for criminal justice reform. Democrats view sentencing policies, particularly at the federal level, as destructive to minority communities, and conservatives debate whether "prison costs translate into better public safety," according to the Wall Street Journal. While there is consensus, little has been achieved substantially in terms of legislation.
Under the Obama administration, federal sentencing guidelines were reformed in 2014, reducing severe sentences imposed during the war on drugs during the 1980s and 1990s. That resulted in about 5,000 inmates, about 2 percent of the prison population, getting early release.
On December 16, 2016, it was announced President Obama had granted clemency to 231 inmates, the most in a single day by any president in the nation's history, according to the White House. It brings the total of those whose sentences have been commuted to 1,324, including 395 life sentences.
It is at the state level where reform has been substantial. In California a ballot initiative, Proposition 47, in 2014 gave certain nonviolent offenders an opportunity to reduce their felony convictions to misdemeanors. In Indiana, prisoners with shorter sentences and good time credit were diverted from state prison to local jail facilities. Other state reforms divert drug offenders, and those suffering from mental illness, into treatment instead of jail.
Other reverse trends in the latest findings were a drop in the number of state and female prisoners, which had increased in 2013 to 111,358 and in 2014 to 113,028, but decreased by 1 percent in 2015 to 111,495 female inmates. Women make up 7 percent of the population in federal and state prisons, with twice as many white female inmates (52,700) as black females (21,700). Eleven percent were aged 55 or older.
The report found, however, that there was twice the rate of imprisonment for black females as for white females.
About 65,100 inmates held in federal and state prisons are non-citizens as of 2015, stated the report.
The report found that nearly half of federal prisoners incarcerated on September 30, 2015, "had been sentenced for drug offenses," and more than half of the prisoners in state prisons (53 percent) at year-end 2014 were servicing sentences for violent offenses.
The statistics come from the Bureau of Justice Statistics' National Prisoner Statistics program, which collects annual data from state department of corrections and the BOP on prisoner counts, prisoner characteristics, admissions, releases and prison capacity.
The latest data shows the United States is still the country with the highest rank for its total prison population, according to the website, Prison Studies. The US is followed by China at over 1.6 million inmates, the Russian Federation with over 637,000, and Brazil with over 622,000.
You can share this story on social media: