The floating dead: Massive fish kill in Baltimore rivers
Published time: 29 Dec, 2016 14:43
Edited time: 30 Dec, 2016 11:23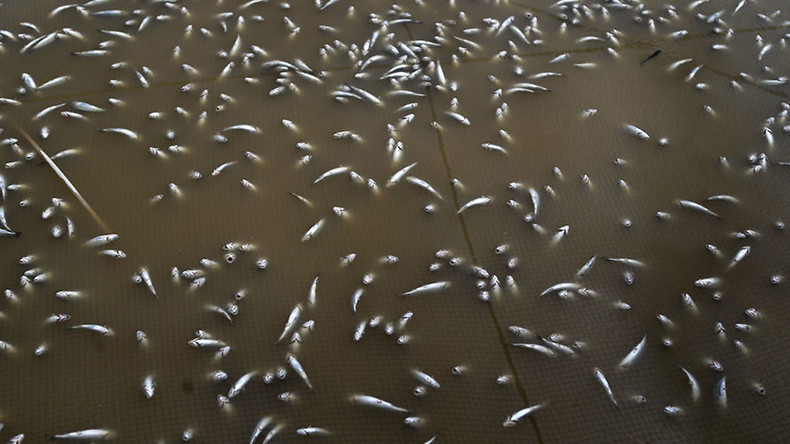 Thousands of fish from several different species have died in a massive fish kill in two rivers in the US state of Maryland, with officials saying the aquatic environment was robbed of oxygen by toxic algal bloom.
Maryland Department of the Environment investigators told The Baltimore Sun that they believe a toxic algae known as 'Karlodinium venifecum' is to blame for the deaths of about 10,000 fish in the Gunpowder and Bird rivers.
Fish kills are localized die-offs of fish populations and the most common cause is reduced oxygen in the water due to algae bloom, drought, overpopulation, or an increase in water temperature.
They can be caused by diseases or parasites, but such cases are less frequent. Mass fish kills are more common in the summer, when warm weather and sunlight fuels algae blooms, and are often the first visible signs of environmental stress in a body of water.
Officials in Maryland are waiting for lab results to confirm that algae bloom was the cause of the die-off in the rivers in Baltimore County but they do not believe pollution was a factor.
"Monitoring has shown elevated cell counts of Karlodinium venifecum algae in the Gunpowder River," Department of the Environment spokesperson Jay Apperson said to Fox news. "We are awaiting results of laboratory tests for algae toxins and of fish tissue. The investigation is ongoing."
Residents have been told to avoid the dead fish and to wash their hands should they need to handle or dispose of any of the bodies.