Full mobile footage released from black woman's Fort Worth arrest that sparked protests (VIDEO)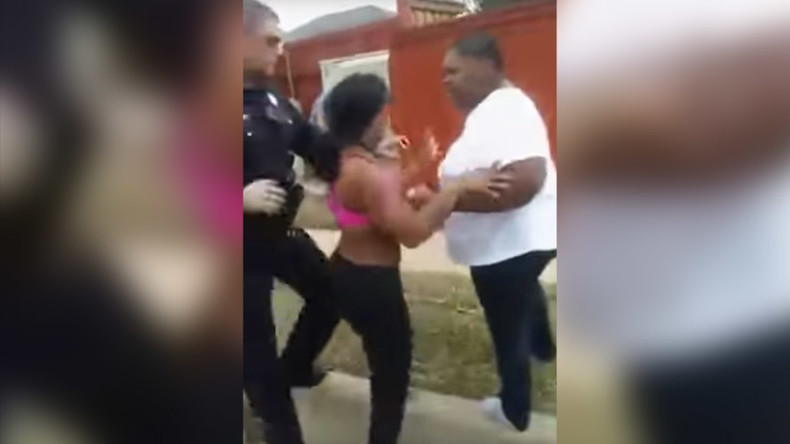 Full mobile phone footage has emerged from the family of the black Texas woman who was arrested with her two daughters after calling the police on a neighbor who allegedly physically abused her child.
The full 29-minute video also shows about 11 minutes leading up to the incident in which the white Fort Worth officer wrestles the woman to the ground, before pulling a Taser, and also detains her two daughters.
This was after the woman had called the police to complain that her seven-year-old son had been dragged by the neck by her neighbor in an altercation over trash.
The video shows the use of force which did not follow any physical threat from Jacqueline Craig, 46. Craig complains to the officer that she would like to "press charges. This is a grown man. He grabbed a 7-year-old kid and choked him."
"Why don't you teach your son not to litter?" says the officer.
"He can't prove that my son littered," Craig answers. "But it doesn't matter if he did or didn't, it doesn't give him the right to put his hands on him."
"Why not?" the officer asks.
After she is taken into custody, the extended clip shows another 12 minutes, including the arrest of Craig's two daughters – 19 and 15 years of age – one of whom had been filming the officer.
The police now have the video and the cellphone, which are being analyzed. On Friday, Fort Worth Police Chief Joel Fitzgerald insisted that while the officer was "rude," he said, "I can't call [the incident] racism," according to the Fort Worth Star-Telegram.
"What I can say is that I noticed in the video that the officer was rude," Fitzgerald said at a news conference. "And there is a difference between rude and racist."
Mayor Betsy Price called the arrest an "isolated incident." Fitzgerald said police are interviewing witnesses. "Ninety-nine percent of our officers" would not have handled the encounter as the officer did on Wednesday, he said.
Around 150 people gathered Thursday night at a rally in protest of the arrests.