Sinkhole swallows Detroit suburb, dozens evacuated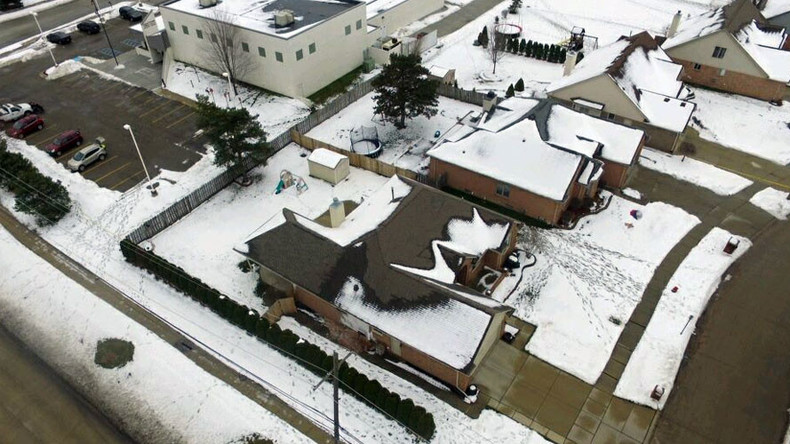 An entire neighborhood was evacuated and municipal crews diverted sewage into Clinton River after a massive sinkhole opened up in the Detroit suburb of Fraser, Michigan, over the Christmas weekend. A major road is expected to be closed for months.
Clinton Township authorities fear 15 Mile Road in this township north of Detroit may collapse, and have closed a portion of the road affected by the sinkhole. Attempts to identify the cause and repair the damage were halted Tuesday morning, after city workers struck a natural gas main.
"A main gas line was hit. The branches to the neighborhood were unaffected," Mayor Joe Nichols said, according to the Oakland Press of Pontiac. "No one was injured. The scene was cleared safely."
Authorities believe the sinkhole was likely caused by the 11-foot diameter (3.3-meter) sewer main becoming "compromised" at a depth of about 60 feet (18 meters), but work crews have not been able to get a camera underground to diagnose the scope of the problem. Residents from 22 homes on Eberlein Drive may be displaced for up to two weeks, while the affected stretch of 15 Mile Road is expected to be closed for months, the Oakland Press reported.
The walls of one house have buckled, two other homes are showing signs of caving in, and several utility poles are tilting over, according to local media.
On Monday, city authorities began pumping sewage into the nearby Clinton River on Monday to prevent possible flooding of homes near the sinkhole, Clinton Township supervisor Bob Cannon told WWJ Newsradio.
The Macomb County Department of Public Works has warned residents on a 3-mile stretch of nearby Garfield Road of possible sewage backups in their basements, advising them to clear out basement floors.
Mayor Nichols has declared a state of emergency in Fraser, and special funding will be allocated to addressing the sinkhole damage. The closure of 15 Mile Road may take up to 10 months if the collapse widens, WWJ reported.
"I'm not pointing fingers," Nichols added. "These lines are owned by county, formerly owned by Detroit."
You can share this story on social media: