Carrie Fisher, Star Wars' Princess Leia, dies at 60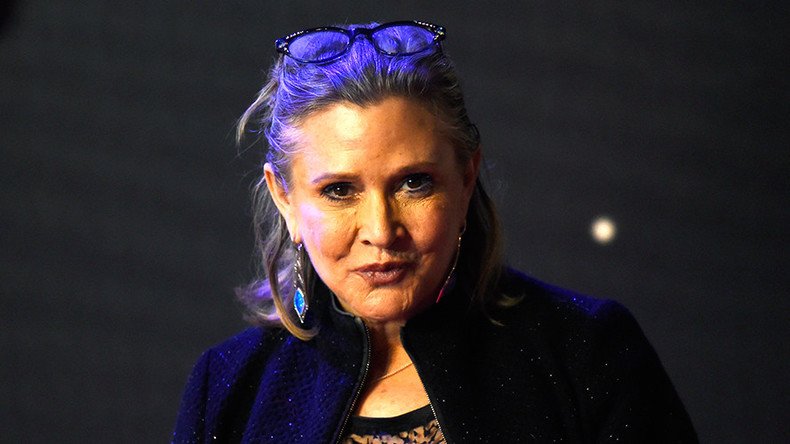 Actress Carrie Fisher has died after a heart attack on board a flight from London to Los Angeles. Best known for playing Princess Leia in the Star Wars movies, Fisher was 60.
"It is with a very deep sadness that Billie Lourd confirms that her beloved mother Carrie Fisher passed away at 8:55 this morning," Simon Halls, spokesman for Fisher's daughter said on Tuesday in a statement reported by People magazine.
Fisher was flying from London to Los Angeles on Friday when she suffered a heart attack. She was evacuated from the flight and rushed to a nearby hospital, where she was reported stable in the Intensive Care Unit.
Fisher, the daughter of actress Debbie Reynolds and singer Eddie Fisher, shot to fame in 1977 in the role of Princess Leia Organa in George Lucas's Star Wars (later renamed 'A New Hope').
Behind the screen, she became known as one of the best script doctors in Hollywood. Her 1987 fictionalized autobiography 'Postcards from the Edge' became a bestseller, and her 2006 one-woman play 'Wishful Drinking' was adapted into a book in 2008.
Fisher's memoir, titled 'The Princess Diarist', was published in November 2016. In it, she revealed that she had a three-month "intense" affair with Harrison Ford, her Star Wars co-star and love interest.
May the force be with the incredibly talented Carrie Fisher. She will be missed. #RIP https://t.co/N9ZSQhKEOM

— (@AMCTheatres) Dec 27 2016
Most recently, Fisher reprised the role of Leia in 'Star Wars: The Force Awakens' and had finished filming her scenes for the yet-unnamed 'Star Wars Episode VIII' in the UK.
Fisher struggled with substance abuse for much of her life, beginning with marijuana as a teenager.
"I never could take alcohol," she told the Herald Tribune in a 2013 interview. "So I didn't do other kinds of drugs until I was about 20. Then, by the time I was 21 it was LSD. I didn't love cocaine, but I wanted to feel any way other than the way I did, so I'd do anything."
She was diagnosed with bipolar disorder in 1985, and became an outspoken advocate for mental health.
"You can let it all fall down and feel defeated and hopeless and that you're done. But you reached out to me – that took courage," Fisher wrote to a young person with bipolar disorder in her Guardian advice column at the end of November. "Now build on that. Move through those feelings and meet me on the other side. As your bipolar sister, I'll be watching."
Fisher is survived by her mother Debbie Reynolds, daughter Billie Lourd, brother Todd, and half-sisters Joely and Tricia.
You can share this story on social media: