Solar storms could affect US power grid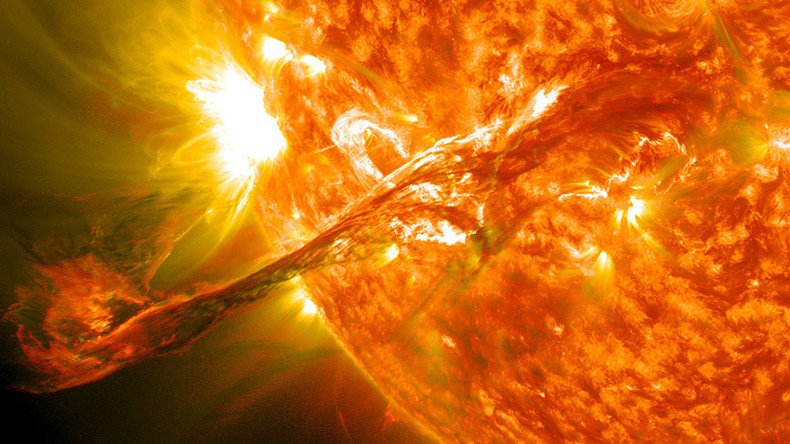 The US National Oceanic and Atmospheric Administration (NOAA) forecasts a solar storm blasting Earth any day now, according to The Sun.
[EDITOR'S NOTE: RT received a response from NOAA after the article was published, explicitly contradicting the Sun's report. "There are no threats (geomagnetic, solar radiation storms, or radio blackouts) underway," NOAA spokeswoman Maureen O'Leary told RT in e-mail.
"What is correct is that G2 (Moderate) geomagnetic storm levels were observed on December 21 and G1 (Minor) geomagnetic storm levels observed on December 22," O'Leary said."The geomagnetic storm levels observed on December 21-22 are fairly typical levels at this time in the solar cycle AND were the result of the Earth's interaction with a coronal hole high speed stream."
We apologize for publishing the story before receiving an official response.]
A fast stream of solar wind has reportedly hit Earth's magnetic field, generating a "moderately" strong geomagnetic storm which could last for several days, The Sun reported, citing the NOAA.
Solar storms occur when plasma from the sun is blown toward Earth in a stream of supercharged particles. Most notably, these storms create the natural phenomenon known as the Northern Lights. However, the surge of electrons can also cause interference for electronic devices and navigation systems.
The effects is similar to a massive electromagnetic pulse (EMP) caused by a nuclear weapon detonated in the sky.
In October, President Barack Obama warned of the effects a solar storm can cause, saying, "space weather has the potential to simultaneously affect and disrupt health and safety across entire continents."
The last major solar storm happened in 1859. Called the Carrington Event, it was so strong that it shut down telegraph machines on two continents and allowed the northern lights to be visible in Africa, Australia, Latin America, and the US.
Since then, the US'reliance on technology has made solar storms a far greater threat. The scientific journal Atmospheric Environmental estimated in 2013 that if a solar storm the size of the Carrington Event hit the Earth today, it could cause as much as $2.6 trillion dollars of damage to the US alone.
Pete Riley, a senior researcher with Predictive Science, told APS Physics in March that the odds of a Carrington-like event in the next decade were around 10 percent.
You can share this story on social media: