13-year-old with fake gun shot by private investigator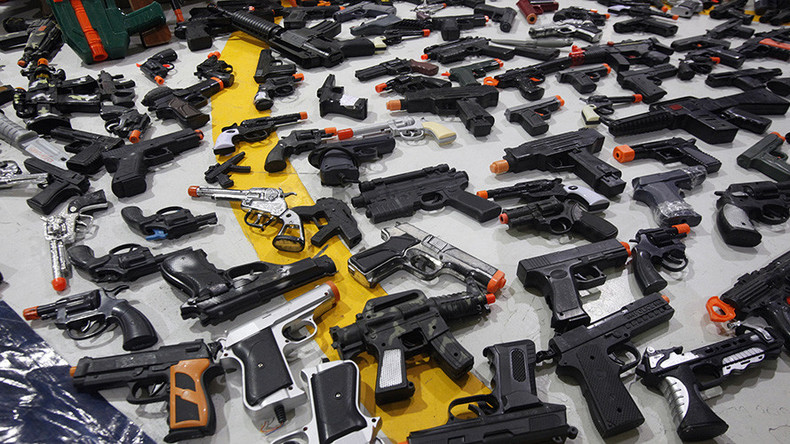 A 73-year-old private investigator shot a 13-year-old boy in what he claims was an attempted carjacking in Baltimore. The teen is in a critical condition after allegedly approaching the investigator's car, brandishing a realistic-looking toy gun.
A former Baltimore police officer shot a 13-year-old in the head on Wednesday afternoon after he claimed they attempted to steal his car with a fake gun. The former officer turned private investigator claims he was eating lunch in his car when the teenager opened the door and displayed what appeared to be a handgun. The investigator responded by shooting him in the head, leaving him in stable but critical condition.
While police have called it an unfortunate incident, they have defended the investigator's actions. "No matter how you paint it, they were trying to take his vehicle," detective Donny Moses of the Baltimore PD told WBFF. "This young man put himself in a bad predicament. He actually got the worst of it. His friends ran from the scene," he added.
The teenager's family has expressed doubt that the teen owned the replica gun. Shantell Damon, his aunt, told WBFF that his mother would not allow the teen to own a toy like that but, "if he sees one of his friends have that, yeah, he's a teenager. He's gonna want to hold it, play with it."
Carjacking in Baltimore has been on the rise and increased 49 percent since last year, according to WBFF. Officials say that juveniles represent the majority of carjacking offenders and hope that this tragedy sends a message to younger members of the community.
The teen's shooting comes just weeks after former Baltimore mayor Stephanie Rawlings-Blake signed legislation that banned realistic looking toy guns with a $250 fine and possible jail time in the hopes of getting fake guns off the street. The teen remains in stable but critical condition. Should his condition improve, he will face charges.
Baltimore Police spokesperson T.J. Smith told WBFF, "If he gets in a position where we charge him with possessing a replica gun, that's actually a good day for him."
"That means he survived and he's coherent enough to answer to the charges," he added.
You can share this story on social media: