'Strengthen & expand' – Trump calls for greater US nuclear capabilities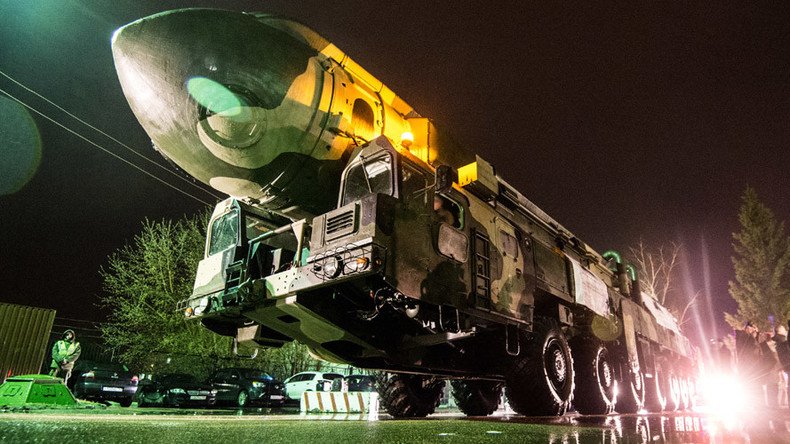 President-elect Donald Trump has set Washington atwitter again with a cryptic and seemingly unprompted pronouncement about the necessity to expand the US' nuclear capabilities.
"The United States must greatly strengthen and expand its nuclear capability until such time as the world comes to its senses regarding nukes," Trump tweeted on Thursday afternoon.
The United States must greatly strengthen and expand its nuclear capability until such time as the world comes to its senses regarding nukes

— Donald J. Trump (@realDonaldTrump) December 22, 2016
Earlier in the day, the president-elect blasted the UN Security Council over an "unfair" draft resolution regarding Israel and reiterated his commitment to "draining the swamp" in Washington. He offered no indication as to what might have prompted remarks about nuclear weapons.
Thursday's tweet seems to diverge from Trump's public position on nuclear weapons that he expressed during the campaign. The billionaire businessman campaigned on a platform of rebuilding the US military while cutting taxes and reining in federal spending. He was critical of outgoing President Barack Obama's plan to modernize the US "nuclear triad," estimated to cost $1 trillion over the next 30 years.
"I don't want more nuclear weapons," Trump had told CNN's Anderson Cooper during a town hall in March.
"We are not keeping up with other countries," Trump said during the first presidential debate in September. "I would like everybody to end it, just get rid of it. But I would certainly not do first strike."
Obama's modernization plan was criticized by some members of his own party. Senator Dianne Feinstein (D-California) and Representative Adam Smith (D-Washington) called it "neither affordable, executable, nor advisable in order to maintain an effective and reliable nuclear deterrent," according to Tom Collina of the Ploughshares Fund, a Washington-based anti-nuclear think tank.
According to Collina, former Secretary of Defense William Perry and retired head of US Strategic Command, General James Cartwright, even proposed that Trump could phase out intercontinental ballistic missiles.
"[O]ur levels of nuclear forces should be determined by what we need, not by a misguided desire to match Moscow missile for missile," Perry said.
On Wednesday, Trump met with executives from Boeing and Lockheed Martin to discuss the new Air Force One and the F-35 Joint Strike Fighter – projects entrusted to the two aerospace contractors which he had publicly criticized last week. They are also bidding on a contract for a new missile to replace the Minuteman III.
Earlier on Thursday, Russian President Vladimir Putin spoke of the need to "strengthen the military potential of strategic nuclear forces, especially with missile complexes that can reliably penetrate any existing and prospective missile defense systems."
Russia "must carefully monitor any changes in the balance of power and in the political-military situation in the world, especially along Russian borders, and quickly adapt plans for neutralizing threats to our country," he added.
You can share this story on social media: