Church should be more transparent – creator of 'MormonWikiLeaks'
Published time: 22 Dec, 2016 18:15
Edited time: 23 Dec, 2016 15:59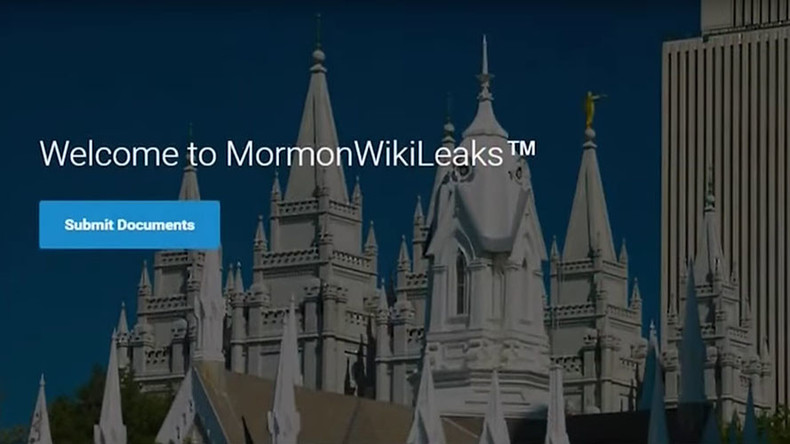 A former member of the Church of Jesus Christ of Latter-day Saints has built a secure website, modeled on WikiLeaks, that aims to leak internal information about the secretive Mormon church's financial dealings and inner workings.
The website, MormonWikileaks, provides an encrypted portal for any potential leaker to upload documents, videos, and other materials that may shed light on the Mormon church's internal culture.
The site was built by Ryan McKnight, a former member of the church and the person responsible for leaking in October a series of videos on a "Mormon Leaks" YouTube channel that revealed private meetings among church elders in which they discussed matters of church policy.
Prior to that, in 2015, McKnight was instrumental in surfacing a church position known as the "November 5th policy," which banned the baptism of any Mormon children of same-sex couples until they reach the age of 18 and disavow homosexuality. The policy also mandated that same-sex couples should be considered apostates.
McKnight told RT America that he hopes the site, modeled after Wikileaks, will open up information about the Church of Jesus Christ of Latter-day Saints (LDS) for the benefit of all Mormons.
"The LDS church, in my opinion and in the opinion of many, falls short in their responsibilities to their stakeholders for transparency," McKnight said.
"That obviously involves financial information, but not only that. Also just their policies and procedures at the corporate level. Most average members are not aware of how things work in this organization they're supporting financially. And I do believe people deserve to know these things and I do think that the church, as a non-profit and as a religion, has a responsibility to be more open and transparent than they are currently."
McKnight said the site is not part of a "witch hunt" but a tool for anonymously-fed information about the church, which is known for its deep secrecy, including its policy of requiring employees to sign non-disclosure agreements.
"We basically want to be here for the church employee who comes across information and their conscience says to them, 'you know, maybe this information would be beneficial for the public to know about,' and they feel like they have a duty to release it to the public or whatever," he told RT. "We just want those people who come to that conclusion on their own to know that we're here to help them and that there is a resource out there."
Here is a list of the # of people, by Country, that our Facebook page reached w/in first 24 hours. Interesting to see where we are reaching: pic.twitter.com/oMf8fcqc1y

— MormonWikiLeaks™ (@MormonWikiLeaks) December 21, 2016
The LDS church told RT's Maneul Rapallo that it is aware of the website but has chosen to refrain from offering any statement about it.
McKnight grew up in the LDS church but, about three years ago, came to the belief that he was being served a "white-washed version of the truth," he told the Washington Post.
He left the church and became active in online forums of other ex-Mormons. He helped reveal the "November 5th policy" in 2015, and was eventually "bombarded with messages" that led him to build the new website with the help of a small, unpaid staff.
"This is an 'if you build it they will come' project," he told the Post, adding that he thinks the information leaked on the site will help many "highly insulated" church members realize the LDS church operates "very much like a business."