History-maker Kellyanne Conway lands senior role in Trump White House
Published time: 22 Dec, 2016 13:57
Edited time: 22 Dec, 2016 13:58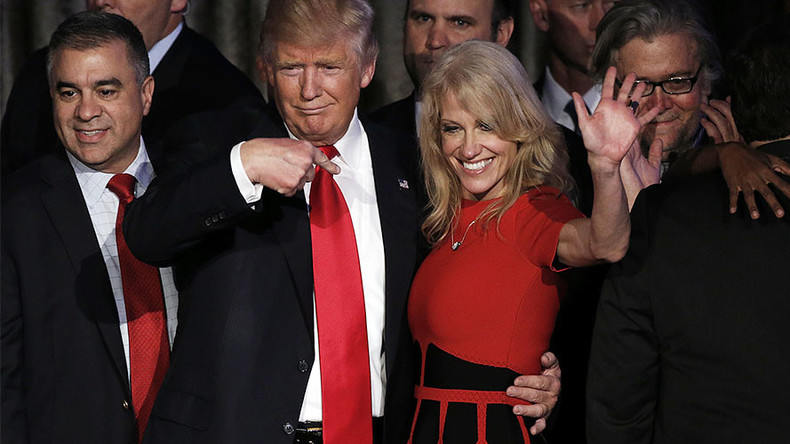 Donald Trump named his former campaign manager Kellyanne Conway as counselor to the president on Thursday.
"Kellyanne Conway has been a trusted adviser and strategist who played a crucial role in my victory," Trump said in a statement. "She is a tireless and tenacious advocate of my agenda and has amazing insights on how to effectively communicate our message. I am pleased that she will be part of my senior team in the West Wing."
READ MORE: Trump campaign manager does not rule out special prosecutor for Hillary Clinton - MSNBC
"Conway has been serving as a senior member of the president-elect's transition team and previously served as this campaign manager of his successful run for the presidency," a statement from Trump's transition team read.
The people have spoken. They chose a new direction and different leadership. Respect them. Come together. We live in a wonderful nation. 💗🇺🇸

— Kellyanne Conway (@KellyannePolls) November 9, 2016
Conway, a former law clerk and pollster, is credited with being the first woman to run a successful presidential campaign. She previously worked for Newt Gingrich and Vice President-elect Mike Pence, and appeared on various news networks as a commentator.
While she originally endorsed Republican candidate Ted Cruz, and described Trump as someone who "literally bulldozed over the little guy to get his way," she became the billionaire real estate mogul's campaign manager in August after Cruz left the race.
"I want to thank the president-elect for this amazing opportunity," Conway said in a statement. "A Trump presidency will bring real change to Washington and to Americans across this great nation."
"I am humbled and honored to play a role in helping transform the movement he has led into a real agenda of action and results," she added.
Conway had previously suggested she wouldn't take a top position in the White House due to her four young children.