Jury convicts 2 Dakota Access pipeline protesters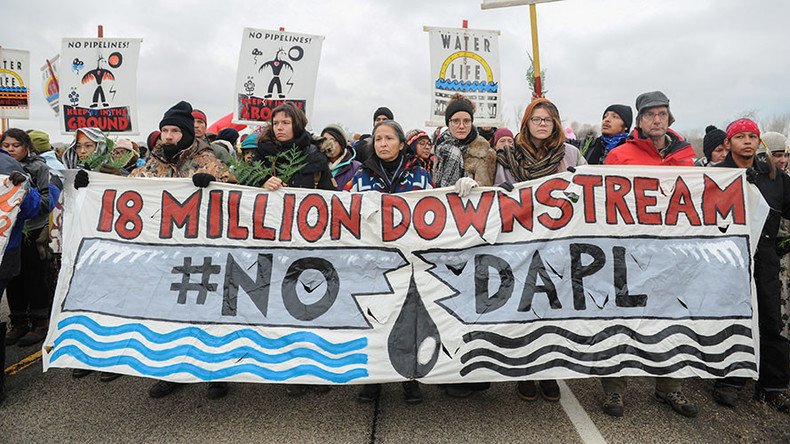 Two Dakota Access Pipeline protesters have been convicted of obstructing a highway and disorderly conduct – both misdemeanors – and fined by a North Dakota judge. Theirs was the first jury trial related to the nine-month-long pipeline protests.
Benjamin Schapiro, 30, of Ohio, and Steven Voliva, 62, of Washington, were arrested on September 27 and charged with blocking a highway in Morton County. On Tuesday, a jury found them guilty of two class-B misdemeanors, the Bismarck Tribune reported.
District Judge Bruce Romanick handed down a suspended sentence of 10 days in jail and fined the men a combined amount of $1,285 – including $500 in legal fees to their court-appointed defenders and $500 in restitution to Morton County police.
"You can get a job and pay these costs back," Romanick told the defendants, accepting the argument from county prosecutor Ladd Erickson that the protesters were seeking to do economic harm to Morton County through their arrests.
"Regardless of your passions and opinions, you cannot block public roads," Erickson argued during the trial. "If you rule against the state here, I can't go lay out in the street and protest your actions."
The evidence at the trial consisted of the testimony by three law enforcement officers who were present on North Dakota Highway 6 on that day, the Tribune reported. Mercer County Sheriff Dean Danzeisen said he saw the defendants – who were masked – stop the car at the intersection of Highway 6 and County Road 135, so that a convoy of vehicles with protesters could pass.
Voliva is a part-Yupik retired artist, and Shapiro is a teacher and farmer. Both said they were protesting the potential environmental consequences of the pipeline. Court-appointed attorneys for the two men opposed the court-awarded fees, saying they did not track their hours and that their clients were indigent. Judge Romanick said the $500 fee is less than any of the protesters could have paid for a private attorney.
Thousands of Native Americans and activists from around the US have protested the construction of the pipeline under Lake Oahe, the Missouri River reservoir that is the principal water source for the Standing Rock Sioux reservation. After months of protests, on December 4 the Army Corps of Engineers reversed the decision to grant a construction easement to Dakota Access LLC, a subsidiary of Texas-based Energy Transfer Partners.
Between August and December, local and state law enforcement officers arrested nearly 600 people in connection to the protests. Morton County Sheriff's Department listed 265 people who were assigned public defense attorneys, while another 264 had no legal counsel at all. The sheer amount of protesters facing charges has put a strain on the area's court system, with legal groups petitioning the state Supreme Court to allow lawyers from outside North Dakota to step in and help.
A trial of 10 protesters had to be postponed on Monday, after a judge in Mandan, North Dakota learned that some of the evidence was not provided to defense attorneys.
After no one from the Morton County State's Attorney's Office appeared at the pretrial hearing to answer the objections from attorneys for Shapiro and Voliva, Judge Romanick decided to press on with the trial.
"We've got to keep moving," he told the attorneys, according to the Bismarck Tribune. "That's how our system works."
You can share this story on social media: