Swarming the enemy: US Navy showcases fleet of 'drone' defense boats (VIDEO)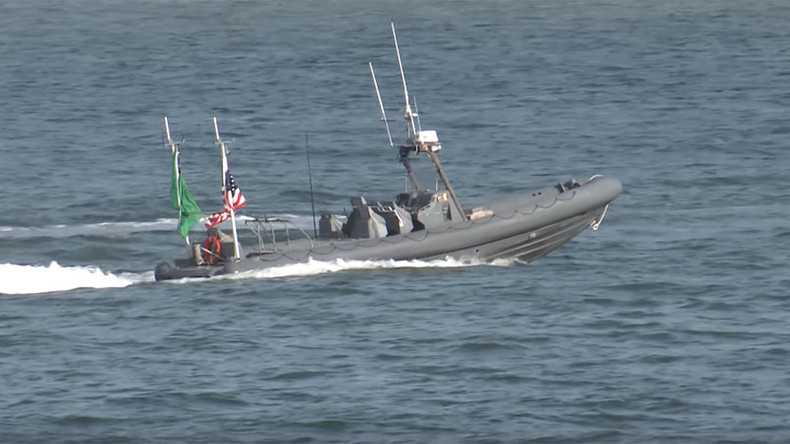 A new autonomous warfare tool has been revealed by the US Office of Naval Research (ONR) – unmanned military boats developed to defend territorial waters and "overwhelm" approaching enemies.
The autonomous 'swarmboats,' which are controlled remotely from an operations center, were put through their paces at a recent demonstration in lower Chesapeake Bay on the Atlantic coast.
In the test, four of the unmanned vessels, which can communicate with each other, patrolled a harbor area as an intruder boat approached. The closest boat moved towards the 'intruder' while others intercepted and followed the suspect vessel.
During the demonstration, the floating drones transmitted data to a human supervisor to determine if the vessel should be considered a threat.
The small rigid-hull inflatable boats, which are equipped with autonomous technology called Control Architecture for Robotic Agent Command and Sensing, or CARACaS, are already in the Navy's inventory and can be easily converted into robot boats with the installation of a CARACaS kit, according to the ONR.
CARACaS was first showcased in 2014 by the ONR on the James River in Virginia, where the autonomous swarm boats "protected" a high value vehicle from simulated attackers.
Since then, the ability for multiple unmanned vehicles to collaborate on tasks and communicate with each other throughout the mission has been added.
"This technology allows unmanned Navy ships to overwhelm an adversary," said Commander Luis Molina, military deputy for ONR's Sea Warfare and Weapons Department. "Its sensors and software enable swarming capability, giving naval warfighters a decisive edge," he said.
Molina envisages a future where these independent vessels escort missions, clear and deliver mines, and bring supplies ashore.
The technology is designed to assist humans during potentially life-threatening missions, and not to replace sailors or marines.
Dr. Robert Brizzolara, the program officer at ONR overseeing the project, says "the autonomy technology is versatile enough that it will assist them in performing many different missions, and it will help keep them safer."
You can share this story on social media: