Religious discrimination or parking concern? DOJ sues Michigan city over mosque nix
Published time: 17 Dec, 2016 04:53
Edited time: 17 Dec, 2016 13:46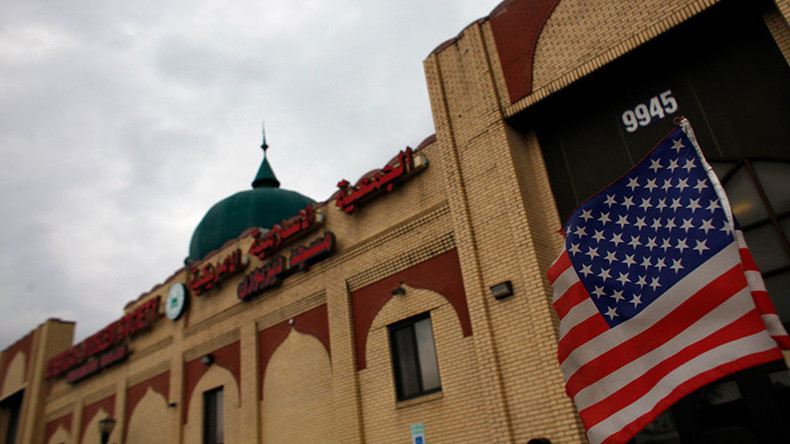 Sterling Heights, Michigan is being sued by the US Department of Justice after rejecting an application to build a mosque. The city has cited parking issues and the building's size, but the DOJ believes it was an act of religious discrimination.
Sterling Heights has been in a battle over a potential mosque since September 2015, when the city planning commission initially rejected the proposal. And the situation is far from over. On Thursday, the Department of Justice (DOJ) filed a lawsuit against Sterling Heights based on the Religious Land Use and Institutionalized Persons Act.
Sterling Heights denied the mosque application over the size of its parking lot and the building itself, as well as a lack of "harmony" with the neighborhood. While the proposed mosque would have been lower than a nearby church and provided 130 off-street parking spaces, it was the first time in a decade that Sterling Heights rejected a land use application for a house of worship, the New York Times reported.
The mosque was proposed by the American Islamic Community Center (AICC), which currently has a mosque in Madison Heights, but was looking to relocate to Sterling Heights to be more convenient for its congregation and in order to fit their growing size.
But the initial proposal was met with intense opposition from community members. Jaafar Chebab, community center board member and trustee of the land, worked with the City Planning Office and City Planner Donald Mende for over a year to create a plan that would benefit all parties involved, according to the DOJ's lawsuit.
Chebab purportedly agreed to not play external calls to prayer and to not oppose liquor license applications in the area. Despite this, 50 people gathered at a public city planning meeting to speak out against the mosque.
One man made his case against the place of worship by holding up a picture of a woman in a niqab, a face veil that reveals the eyes, and saying he did not wish to "be near people like this." Another urged the board to "remember 9/11." Others made comments that Christians would not be allowed to build a church in Iraq, and others were concerned that a mosque would hurt their property values.
One resident went so far as to ask the US Department of Homeland Security to screen the AICC, because "they're cutting people's heads off, they kill our soldiers." Councilmember Joseph Romano publicly claimed to respect Muslims but added, "There are certain sects of them that shouldn't be in this country."
It was comments like these that led that AICC to file a lawsuit against Sterling Heights in August and urged the DOJ to look into the case. Additionally, they found that the mayor and council members of the board were all running for reelection, and the mosque had become a central issue.
The DOJ claims that the mayor went so far as to announce his opposition on Facebook, saying: "It is sad that my political opponents are lying to you and trying to scare you into thinking I am insensitive," and "I have nothing to do with this mosque and do not want it built there."
As a result, the DOJ's civil rights division based its lawsuit on the Religious Land Use and Institutionalized Persons Act and claims that the move is an act of religious discrimination.
The city released a statement, saying, "The City has cooperated fully with the Department of Justice in this matter, and is surprised and disappointed in its decision to initiate this lawsuit at this time."