$60mn drug bust: 'Largest known seizure of heroin' in Afghanistan revealed by DEA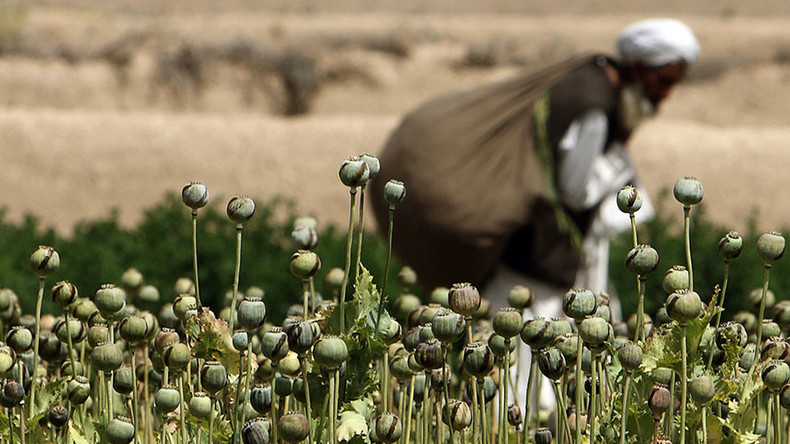 A massive 20 tons of drugs with a "conservative" street value of about $60 million were seized from a "super lab" run by suspected Taliban connected trafficking network, the US Drug Enforcement Administration (DEA) has revealed.
The biggest-ever seizure of heroin in Afghanistan "if not the world" which took place last October in a joint operation between the DEA, American Special Forces and Afghanistan's Sensitive Investigative Unit and National Interdiction Unit.
The haul included 129 kilograms of crystal heroin, 6.4 tons of heroin base, 134 kilograms of opium, 12.5 tons of morphine base and 12 kilograms of hashish.
The seizure was kept secret until Thursday when ABC News questioned a DEA official about an intelligence report they had obtained which detailed the bust. The official confirmed its contents, but would not say why such a big win wasn't publicized.
"This drug seizure alone prevented not only a massive amount of heroin hitting the streets throughout the world but also denied the Taliban money that would have been used to fund insurgent activities in and around the region," DEA spokesperson Steven Bell told ABC News.
The operation targeted the Hadamama drug trafficking network led by suspected Taliban commander Abdul Rahman and Haji Janan, a "narco-trafficker" in the Western Afghan province of Farah.
On October 17, 2015, the Green Beret A-team assisted with a warrant search of the site. Following clashes with insurgents close to the compound, the group discovered a drug lab used to make heroin base from poppies. The report described the compound as "complex, sophisticated and well-fortified."
Afghanistan remains the world's largest heroin supplier, much of which ends up in Europe. The The United Nations Office on Drugs and Crime (UNODC) reported the country's opium harvest had increased 40 percent in 2015 from the previous year and is now at one of the highest levels on record.
"Preliminary results suggest that illicit cultivation has increased well above 200,000 hectares (494,000 acres)," UNODC Executive Director Yury Fedotov said in October. "The production of opiates is expected to follow the same upward trend," he added.
Sources told ABC that the seizure was commendable in light of the reduced numbers of US military in the country, along with a diminished DEA presence. The DEA's Foreign-Deployed Advisory Support Teams (FAST) which were set up to tackle the heroin trafficking that funds groups like the Taliban has also been eliminated.
Three DEA officials have been killed in Afghanistan since 2001, and five have been injured.