Giant plane circles Manhattan, causing confusion & fear (PHOTO, VIDEO)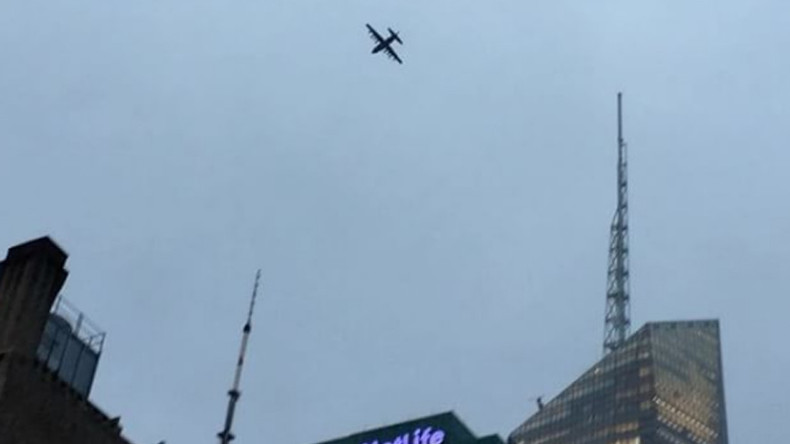 New Yorkers were taken aback by the sight of a large military plane circling the Manhattan skyline on Tuesday. There has been no official explanation of what the plane was doing.
According to social media users, the mysterious plane is a C-130 Hercules. Made by Lockheed Martin, it is used as a military transport plane.
According to reports, the New York Police Department have said they don't know why the plane is up there.
The Federal Aviation Agency (FAA) told reporters: "We do not disclose the mission of what the plane is doing."
According to airline blogger Jason Rabinowitz, there were also reports of "several Black Hawk helicopters circling low (3,000 feet) over Manhattan."
Rabinowitz then tweeted that the plane had departed New York City's airspace, and that it belonged to the 102nd Rescue Squadron of the New York Air National Guard.
A Washington Post reporter quoted a Colonel Nicholas Broccoli, vice Commanding Officer of the 106th Rescue Wing, who said the circling was "standard military training." Broccoli also said the flight was cleared with the FAA.
Some people were suspicious of Colonel Broccoli's unusual name, but were assured that he is a real person.