Wisconsin recount ends, Trump... gains more votes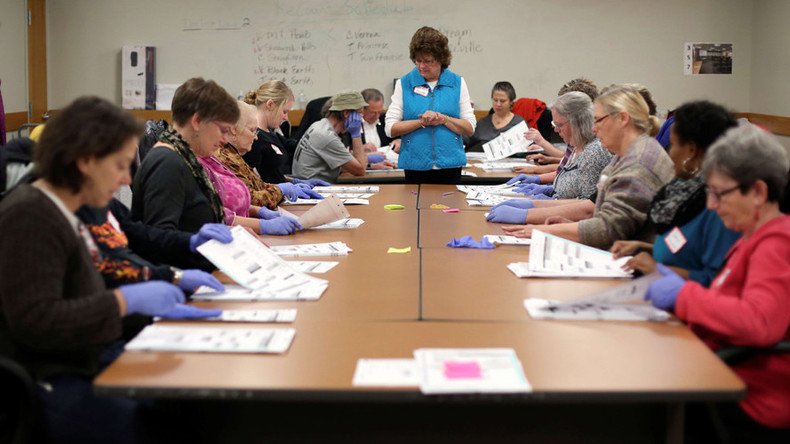 The final results of the Wisconsin recount are in, much to Donald Trump's delight. The president-elect took to Twitter to bask in the glory of the final numbers, which threw additional votes his way.
Nearly 3 million votes were recounted in the swing state, with the result handing Trump even more votes than were originally recorded.
Using what seems to be his favorite means of communication, Trump tweeted the news, once again calling the recount led by Green Party candidate Jill Stein a "scam."
The final Wisconsin vote is in and guess what - we just picked up an additional 131 votes. The Dems and Green Party can now rest. Scam!

— Donald J. Trump (@realDonaldTrump) 12 декабря 2016 г.
While Trump's tweet said the recount landed him an additional 131 votes, AP reported that he picked up a net 162 votes.
The Wisconsin results changed by fewer than 1,800 votes, or 0.06 percent. Overall, Trump won the state by more than 22,000 votes.
In addition, the recount found no evidence of widespread problems or hacking, despite suggestions from Stein, who argued – without evidence – that voting machines in Wisconsin, Pennsylvania and Michigan were susceptible to hacking.
Stein responded to the recount results in a statement on her website, saying she is "disappointed that not all counties conducted a full hand recount, which is considered the 'gold standard'."
She went on to say that the recount was not about changing the outcome of the election, but about "validating the vote and restoring confidence in our voting system..."
Stein paid for the Wisconsin recount after crowdsourcing the $3.5 million required.
Meanwhile, Pennsylvania's recount efforts also came to a close on Monday, with a federal judge rejecting Stein's request to recount paper ballots and scan some counties' election systems for signs of hacking.
The Green Party just dropped its recount suit in Pennsylvania and is losing votes in Wisconsin recount. Just a Stein scam to raise money!

— Donald J. Trump (@realDonaldTrump) 4 декабря 2016 г.
Trump won Pennsylvania after taking home 2.97 million votes compared to Hillary Clinton's 2.93 million. The result represents the closest percentage victory in a presidential race in Pennsylvania since 1840.
A judge also halted Michigan's recount last week.
Trump has repeatedly called the recount efforts a scam by Stein and her Green Party, tweeting last month that it was aimed to "fill up their coffers."
The Green Party scam to fill up their coffers by asking for impossible recounts is now being joined by the badly defeated & demoralized Dems

— Donald J. Trump (@realDonaldTrump) 27 ноября 2016 г.
You can share this story on social media: