State Department frontrunner is ExxonMobil exec honored with Russian state award by Putin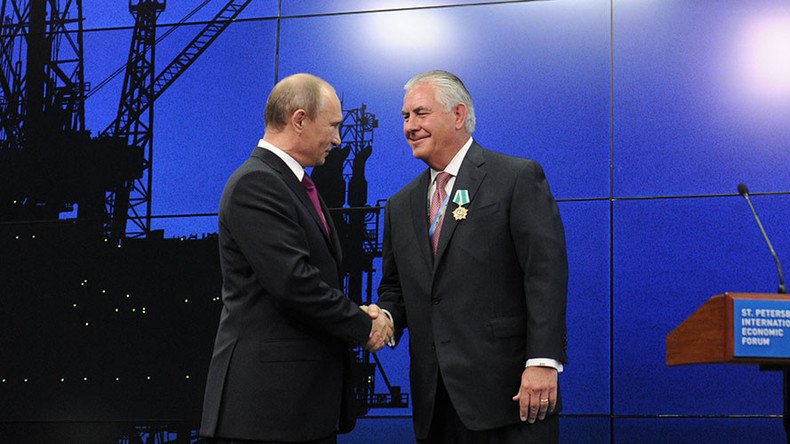 President-elect Donald Trump may propose an oil executive with close ties to Russia as his future secretary of state. Rex Tillerson's nomination may face opposition from Republican legislators who view Russia as a threat to the US, however.
NBC News, the Wall Street Journal, the Washington Post, and other media outlets citing their own sources discussed the oil exec's possible nomination throughout the weekend, describing it as highly probable.
Tillerson, 64, is a lifetime employee of US oil and gas giant ExxonMobil, starting with the company in 1975 and rising through the corporate ranks to become one of the company's key negotiators. Among the deals he has sealed is a 2011 agreement with Russian state-owned oil company Rosneft, which gave Exxon access to the Russian Arctic and Rosneft a stake in the US company's projects in North America.
READ MORE: Trump nominates retired general John Kelly as head of homeland security

In 2013, Russian President Vladimir Putin presented Tillerson with the Order of Friendship, one of the highest honors a foreigner may be awarded from Russia. After the US imposed economic sanctions on Russia over the crisis in Ukraine, the Arctic drill deal tanked and Exxon suffered as much as $1 billion in losses as a result, according to some estimates. Tillerson has been among the business executives advocating for ties between the two nations to be restored.
Whether I choose him or not for "State"- Rex Tillerson, the Chairman & CEO of ExxonMobil, is a world class player and dealmaker. Stay tuned!

— Donald J. Trump (@realDonaldTrump) December 11, 2016
Trump has said that he wants to remedy the Obama administration's adversarial relationship with Russia, and Tillerson's appointment as America's top diplomat would be a step in this direction. Though he is not expected to announce his secretary of state pick until mid-week, the president-elect has pitched the oil executive's Russian connections as a strong point.
"To me a great advantage is that he knows many of the players in the world and he knows them well," Trump said in an interview with Fox News Sunday. "He does massive deals in Russia not for himself, but for the company."
The Kremlin indicated that, as a member of Trump's cabinet, Tillerson's experience in dealing with Russia could make it easier for the two countries to work together productively, but expressed doubt that his affinity for Russia, if he has any, would affect his approach or decisions.
"Being State Secretary and being an executive in a company, even a big one, are two different things. Whatever sympathies he may have would certainly be sidelined," Russian presidential spokesman Dmitry Peskov said on Monday.
While acknowledging that Tillerson is viewed as a top professional in Russia, he said Moscow does not expect any less from the person serving as America's top diplomat.
"Tillerson will be a credible and effective messenger for a US reset, because he is not a member of the foreign policy establishment, but also because his history embodies the investment potential Russia could enjoy with a better relationship with the United States," David L. Goldwyn, the State Department's top energy diplomat during the first Obama administration, told the New York Times.
Goldwyn added that Trump "has definitely decided to do a reverse Nixon and side with Russia against China. He thinks we probably can make common cause with Russia in Syria but also in Libya, and he doesn't have a problem supporting strongmen."
However, Tillerson's appointment is not looked upon favorably by some Republicans. Marco Rubio, a member of the Senate Foreign Relations Committee, tweeted on Sunday that "being a 'friend of Vladimir' is not an attribute I am hoping for" in America's next top diplomat. His fellow senator, John McCain, told CBS that he fears Tillerson's perspective "would color his [Trump's] approach to Vladimir Putin and the Russian threat" if he were to become his secretary of state.
Other possible candidates for the position include former Central Intelligence Agency Director David Petraeus, Senate Foreign Relations Committee chair Bob Corker, and former US Ambassador to the United Nations John Bolton.
It was previously reported that 2012 Republican presidential nominee Mitt Romney was also in the running, though he has since ruled out that possibility on his Facebook page.
"It was an honor to have been considered for Secretary of State of our great country. My discussions with President-elect Trump have been both enjoyable and enlightening. I have very high hopes that the new administration will lead the nation to greater strength, prosperity and peace," Romney wrote on Monday.
You can share this story on social media: