'Clearly not over': Dakota Access Pipeline saga goes to court in 2017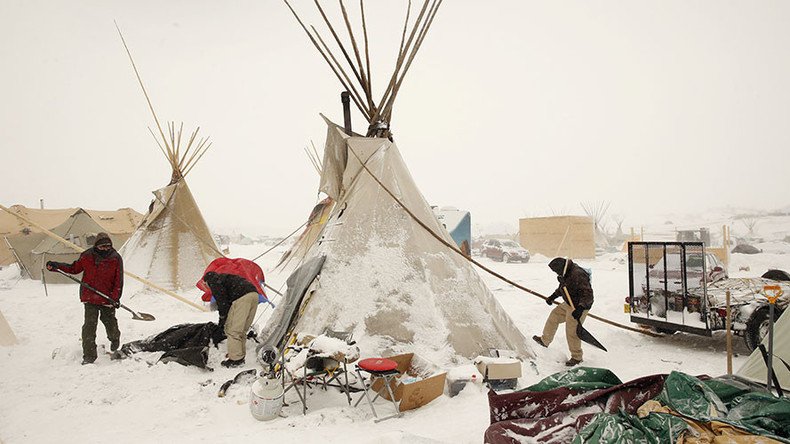 The battle over the Dakota Access Pipeline has not yet finished, despite the Army Corps of Engineers revoking permission to drill below the Lake Oahe crossing. Both the builder and tribes are preparing to go to court in the new year.
Energy Transfer Partners (ETP), the company behind the Dakota Access Pipeline (DAPL), has no intention of giving up easily. On Friday, US District Judge James Boasberg rejected ETP's request for an expedited ruling to overturn the Army Corps' denial of a permit.
The Army Corps of Engineers and the Standing Rock Sioux tribe have until January 6 to file their opposition to ETP's claim that they have the permission and permits necessary to drill under the Lake Oahe crossing, where the tribe gets most of its drinking water.
ETP attempted to argue for a shorter timeline based on the claim that they are losing $20 million with every week that the pipeline is not operational. However, Judge Boasberg was unsympathetic to the Texas company and will not hear arguments until at least February, according to the Associated Press.
In the meantime, the US Army Corps allegedly agreed to raise the water levels of Lake Oahe to make the area unstable and unsuitable for drilling, preventing ETP from trying to finish the pipeline ahead of the court ruling, according to Jordan Chariton.
Ironically, raising the water levels could result in flooding the Oceti Sakowin Camp, where protesters calling themselves water protectors are staying.
How this will play out under the incoming Trump administration remains to be seen, but some local lawmakers who have recently met with President-elect Donald Trump believe that the attempts to find alternative routes for the DAPL are futile.
"It's really not an option because the pipeline is all but done, the only thing left is to go under the river in that spot," Rep. Kevin Cramer (R-North Dakota) told KCRG.
While the Army Corps of Engineers may have acquiesced to demonstrators opposed to the pipeline, Senator John Hoeven (R-North Dakota) hopes that Trump prevents this from happening in the future, telling KCRG, "we've got to improve the permitting process so we don't have situations like we've had with the Dakota Access Pipeline."
"Celebrate while you can, I suppose. This is clearly not over," Rep. Cramer said.
You can share this story on social media: