Gone in 12 seconds: Apple thieves caught on video in daring heists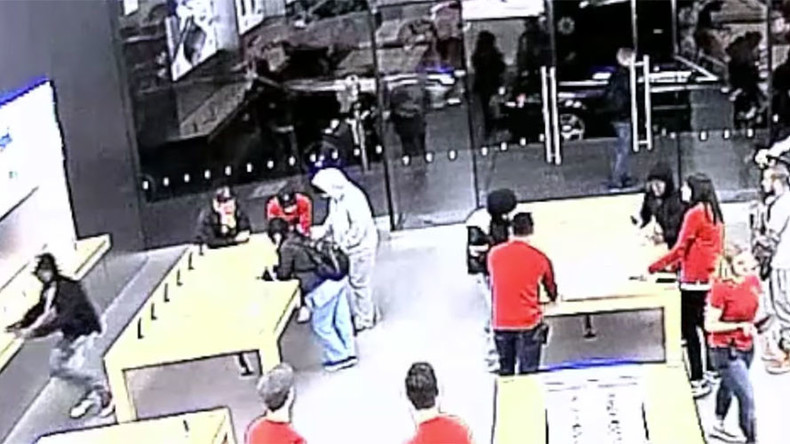 The San Francisco Police Department has released video footage showing two daring robberies at a local Apple store. In both, a group of men walk in and grab whatever they can from display counters at a lightning fast speed, leaving shop assistants and customers stunned.
Police are looking for suspects involved in a series of separate robberies at the Bay Area Apple store which began during the shopping extravaganza, Black Friday.
In the first robbery on November 25, police footage from in-store security cameras shows three men in hoodies walking in, separating, then grabbing whatever they can before exiting the store with iPhones and other Apple products in just 12 seconds.
Four days later in a second heist, four men also in hoodies entered and performed the exact same tactic, in 12 seconds, and robbers grabbed items and ran.
KHOU reported that the smart phones the thieves made off with, however, are worthless as they easily traceable and "locked into a demo mode."
It is suspected the stolen devices will likely be resold to unsuspecting buyers or will be parted out.
Just three weeks prior, there were three separate 'grab and go' attacks at the Fourth Street Apple store in Berkeley when a group of men walked in and grabbed whatever they could.