Congress demands answers from Pentagon on $125bn waste report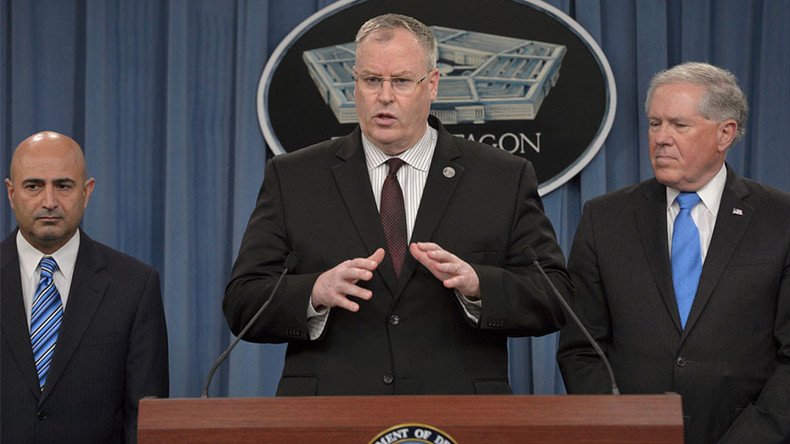 The House Oversight Committee wants to know why the Pentagon buried a proposal to save $125 billion, requesting a copy of the full report – and an explanation – from the Department of Defense.
Thirty-one lawmakers on the committee sent a letter to Defense Secretary Ashton Carter on Thursday, asking why he ignored the proposal to save enough money to "cover the operational costs for 50 Army brigades, or 3,000 F-35 Joint Strike Fighters for the Air Force, or 10 aircraft-carrier strike groups for the Navy."
They were referring to the January 2015 study by the Defense Business Board, commissioned by Deputy Defense Secretary Robert Work. The DBB found that $134 billion a year was spent on a bureaucracy employing over a million contractors, civilians and office personnel, and recommended reforms that would save $25 billion a year over five years.
By comparison, there are almost 1.3 million active service members in all three branches of the military, and another 800,000 reservists. The Pentagon's annual budget is just under $600 billion.
The Pentagon chose not to act on the report, fearful that it might result in reductions to its budget, former DBB chairman Robert Stein told the Washington Post, which reported on the study's existence on Monday. Lawmakers are now asking Carter why he replaced Stein at the head of the DBB, among other things.
Work told the Post that he was initially supportive of trimming the bureaucracy, but regarded the report's recommendations as "unrealistic."
"There is this meme that we're some bloated, giant organization," Work told the Post. "Although there is a little bit of truth in that ... I think it vastly overstates what's really going on."
The Oversight Committee, led by Jason Chaffetz (R-Utah) and Elijah Cummings (D-Maryland) is now asking for a full briefing from the Pentagon, and "all documents and communications" about Work's meetings related to the DBB report, any DBB members' efforts to discuss the report with Carter, and any documents showing that the Pentagon considered adopting any of the study's proposals.
Senator Lindsey Graham (R-South Carolina) has called for a hearing on the report, while Senator Claire McCaskill (D-Missouri) called for an investigation, according to The Hill. Both are members of the Senate Armed Services Committee.
You can share this story on social media: