'Can you hear me now?' Feds may soon allow in-flight calls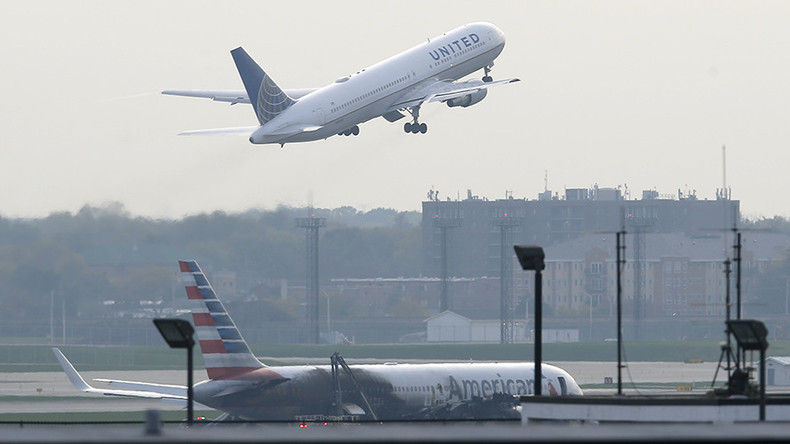 Air travel means getting close and personal with the people around you, but it may be about to get even more frustrating. US aviation regulators have announced that they are leaning towards allowing passengers to conduct in-flight calls.
On Thursday, the Transportation Department (DOT) announced that while they are considering unleashing this fresh hell, the possibility of being trapped in a tight space and listening to strangers talk on their phone is still several years away. It seems, however, an inevitable reality with the recent addition of WiFi to the skies.
DOT has been contemplating the move for two years already, since it sought public feedback, the Wall Street Journal reported. However, the initial call for comments found "a substantial majority of individual commenters expressed opposition to voice calls on the grounds that they are disturbing, particularly in the confined space of an aircraft cabin."
As a result of the large negative feedback, DOT is considering permitting voice calls on the condition that airlines provide sufficient notice in advance if calls are allowed on flights. In addition, WiFi availability has become increasingly commonplace with a number of airlines providing it to their customers.
While the WiFi alone would be enough to make a call with most smartphones, federal restrictions along with airline rules often prevent voice communications. That does not stop some passengers from already using voice over internet protocols (VOIP) technologies, such as Skype or Google Voice. In addition, several airlines in Europe, Asia and the Middle East allow voice communication.
But both consumer groups and the Association of Flight Attendants have opposed chitchat in the cabin. For the 50,000-strong flight attendant union, they have expressed concern that in-flight calls threaten "security and increases the likelihood of conflict in the skies."
Their worries are twofold. Firstly, flight attendants are not confident that passengers would stay off their phones and listen to instructions in an emergency situation. Secondly, there's the chance that a loud conversation on a flight could lead to conflict and other disruptions in the cabin.
For consumer groups, the concern is for patrons that end up on a flight that allows phone calls without advanced warning. In addition, Charlie Leocha, chairman of travelers advocacy group Travelers United, told the Wall Street Journal that the practice of allowing calls could rob traffic from competing airlines that do not ban calls.
However, a spokeswoman for Airlines for America did not see the potential flying phone booths to be as big of a problem as others make it out to be.
"We believe airlines should be able to determine which services can be safely offered in flight and make those decisions based on what is in the best interests of their passengers and crew members," she said.