John Glenn, first American in orbit, dies at 95
Published time: 8 Dec, 2016 20:24
Edited time: 9 Dec, 2016 10:01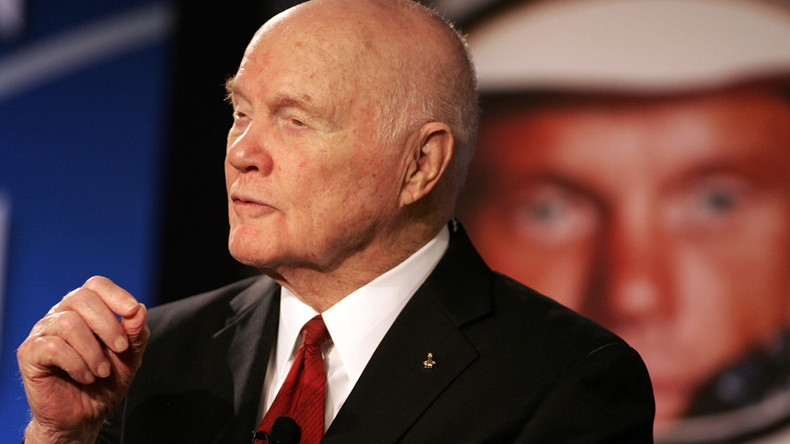 Former NASA astronaut and Democratic US Senator from Ohio , John Glenn, has passed away at the age of 95. He died at the Ohio State University Wexner Medical Center in Columbus, Ohio, according to local newspaper the Columbus Dispatch.
On February 20, 1962 Glenn flew the NASA mission Friendship 7, becoming the first American to orbit the Earth.
Thirty-six years later, at age 77, while still a sitting Senator, Glenn became the oldest person to travel into space.
"John Glenn is, and always will be, Ohio's ultimate hometown hero, and his passing today is an occasion for all of us to grieve," said Ohio Gov. John R. Kasich. "As we bow our heads and share our grief with his beloved wife, Annie, we must also turn to the skies, to salute his remarkable journeys and his long years of service to our state and nation."
"Though he soared deep into space and to the heights of Capitol Hill, his heart never strayed from his steadfast Ohio roots. Godspeed, John Glenn!" Kasich said.
Glenn was born in Cambridge, Ohio and dropped out of engineering school at Muskingum College after the Japanese attack on Pearl Harbor in order to enlist in the US Army Air Corps (now called the US Air Force). He then became an aviation cadet in the United States Marine Corps, where he flew 149 combat missions over the South Pacific in World War II and in Korea during the Koran War. After his military career, Glenn became a US Navy test pilot where he became the first to complete a supersonic transcontinental flight in 1957.
In 1958 Glenn participated in test flights for the newly created NASA Manned Space Program. In 1959 he was selected to be one of NASA's 'Original Seven' astronauts as part of Project Mercury.
During the Friendship 7 mission, Glenn circled the Earth three times, becoming the third American in space, but the first to orbit the planet.
Asked if he felt fear during the Friendship 7 launch, Glenn joked: "How do you think you'd feel if you were on top of two million parts built by the lowest bidder on a government contract?"
He resigned from NASA in 1964, but returned to space in October 1998 as a payload specialist aboard the space shuttle Discovery for a nine-day mission. At age 77, this flight made Glenn the oldest person in space. Glenn's mission aboard space shuttle Discovery also marked the longest interval between space flights by the same person – 36 years.
Aside from his distinguished military and NASA career, John Glenn also served as a United States Senator from Ohio for 25 years. He withdrew from his first Senate campaign in 1964 after a suffering a head injury from a slip and fall at his home, but in 1974 he defeated the Republican mayor of Cleveland Ralph Perk to win a US Senate seat in Ohio. He served as Democratic Senator for his home state until 1999.
Glenn was one of five US senators embroiled in the Keating Five Scandal in 1989, in which he was accused of taking an improper $200,000 contribution from banker Charles Keating during the savings and loan crisis of the 1980's. Glenn along with current US Senator John McCain (R-Arizona) were the only senators to be exonerated in the scandal.
Glenn is survived by his childhood sweetheart and wife of 73 years, Annie.
Glenn's body will lie in state at the Ohio Statehouse for a day. His body will be buried at the Arlington National Cemetery near Washington, DC.