Scott Pruitt and his many fights against EPA, the agency he's picked to lead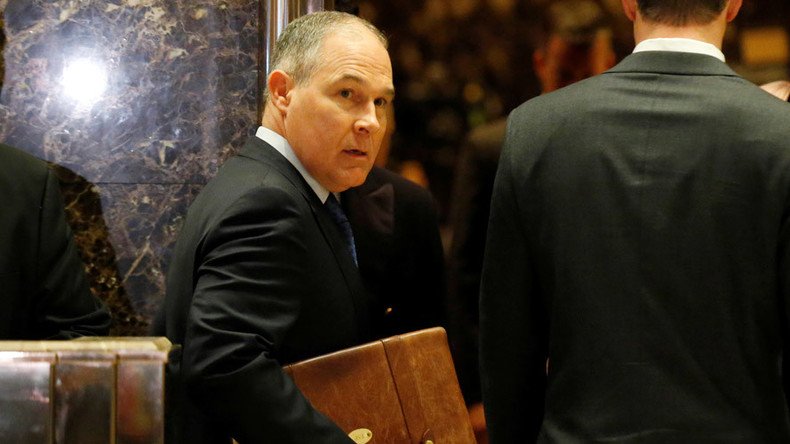 A known ally of the fossil fuel industry, Oklahoma Attorney General Scott Pruitt has been officially selected to head the Environmental Protection Agency (EPA). Pruitt previously sued the very body he is to lead.
"For too long, the Environmental Protection Agency has spent taxpayer dollars on an out-of-control anti-energy agenda that has destroyed millions of jobs, while also undermining our incredible farmers and many other businesses and industries at every turn. As my EPA administrator, Scott Pruitt, the highly respected Attorney General from the state of Oklahoma, will reverse this trend and restore the EPA's essential mission of keeping our air and our water clean and safe," President-elect Donald Trump said in a statement on Thursday.
Pruitt, 48, has served as Attorney General for Oklahoma since 2011. Senate democrats promise to block the EPA nomination.
The appointment is "like putting an arsonist in charge of fighting fires," Michael Brune, executive director of the Sierra Club, said in a statement.
"This is a four-alarm fire. We are going to do everything we can to stop his nomination," said Sen. Brian Schatz of Hawaii.
The nomination of a Secretary-designate is reviewed during hearings held by the members of the Environment and Public Works Committee, then referred to the full Senate for a vote.
Here are five things to know about Pruitt
Sued the EPA several times
Pruitt sued the EPA on behalf of Oklahoma utilities unwilling to take on the burden of additional regulation of their coal-fire plants emissions. Regulation costs were estimated to stand at $2 billion with threats to pass the costs onto to customers. Oklahoma utilities require coal to power plants.
Pruitt later criticized the agency in congressional hearings for dictating an "anti-fossil fuel agenda" to states.
"This is all about cap and trade. It's all about curbing emissions," Pruitt says. "It's all about greenhouse gasses. And I think that's going to trump and kind of swallow up all these other areas that we're dealing with now. These other areas have been battles – that's going to be a war," Pruitt testified before the House Oversight subcommittee in 2012
All of his suits against the EPA have failed.
Sharing state stationery with lobbyists
A New York Times investigative report in December 2014 found Pruitt copied the text of an energy lobbyist's letter to the Environmental Protection Agency and pasted it on official Oklahoma state letterhead and sent it to the EPA arguing that the EPA wasn't properly measuring pollution from natural gas drilling in Oklahoma
Earthquake state
Within the past few years, Oklahoma has been hit by innumerable earths, going from roughly one moderate earthquake per decade from 1882 through 2009 (on average) to 24 earthquakes in the year 2014 alone.
Two studies, published in Science Advances and Science, pin the blame for the rise in earthquakes clearly on saltwater disposal related to oil drilling.
Pruitt supports fracking, calling it "a technological innovation that has done more to reduce carbon emissions in this country than any other technological advancement of our time."
Egg fight
In March 2014, in a multistate lawsuit, Pruitt sued California over a farming law that required egg producers to house egg-laying hens. Under the law farm animals would have enough room to lie down, stand up, extend their limbs and turn freely.
For egg-laying hens, the measure outlawed the cramped quarters known as battery cages, which animal-rights groups said were both inhumane and potential sources of disease.
According to the USDA, Oklahoma produced 741 million eggs in 2012 with a value of $90.5 million.
Pruitt argued the farming law violated the Commerce Clause of the US Constitution; a federal court dismissed the lawsuit.
10 Commandments Monument
The Oklahoma Supreme Court ruled that the monument violated the state's own constitution and ordered it moved off Capitol grounds.
Pruitt sued arguing the ruling was hostile to religion and violated the First Amendment of the US Constitution.
You can share this story on social media: