NYC mayor requests $35mn for Trump Tower security, gets $7mn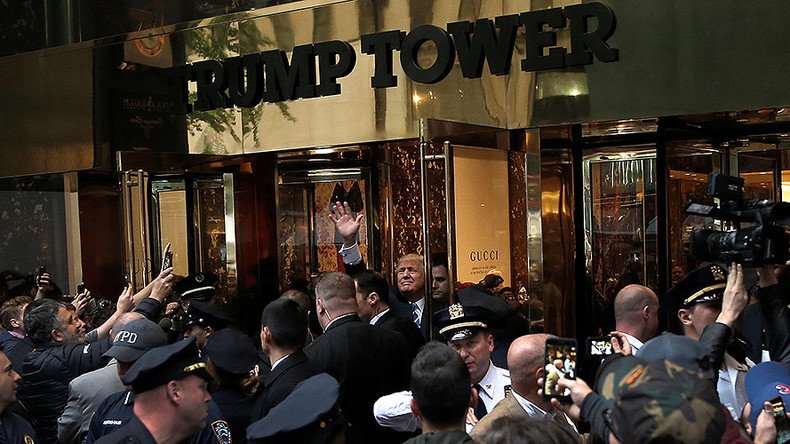 New York City Mayor Bill de Blasio estimated the cost of protecting the president-elect and his family living in Manhattan's Trump Tower to be $35 million, but Congress is only offering to cover one-fifth of his request.
A haggling battle between Mayor de Blasio and Congress is drawing attention to the price of the Trump Tower's security. While President-elect Donald Trump assembles his cabinet from Trump Tower, at least 100 police officers are patrolling the area, including 40 traffic and police officers stationed on the rooftops of nearby buildings watching the perimeter, according to DNA Info.
De Blasio and City Council Speaker Melissa Mark-Viverito co-authored letters to President Barack Obama's administration as well as numerous congressional leaders requesting a $35 million reimbursement from the federal government for the round-the-clock protection to the Trump family while they reside in Manhattan.
This is a large task for the New York Police Department, because Trump has indicated that he will spend as much time as possible in Trump Tower. In addition, Melania Trump will remain in Trump Tower with their 10-year-old son, Barron, until he finishes his school year. This all means that the 24-hour monitoring of Trump Tower will likely have to continue to the foreseeable future, adding to the hefty price tag.
The location of Trump Tower on 5th Avenue is especially problematic, the letter states.
"This is a highly-trafficked, dense urban environment, and one that presents an unprecedented target for potential terrorist activity. No other president in modern history has had his primary residence located in such a densely-populated neighborhood," Mark-Viverito and de Blasio wrote.
In response to their $35 million request, Congress made a counteroffer of $7 million. Mark-Viverito called the low ball offer "outrageous" and said, "The President-elect and Congress must commit to repaying NYPD, the taxpayers, and our City. We will not accept anything else."
READ MORE: Make NAFTA 'fairer': Trump won't 'rip up' trade deal – report

However, de Blasio has no plans to force Trump's hand into guaranteeing protection.
"In the meantime, we will provide the security, but I will not stop fighting until we get the reimbursement that we deserve and I remain optimistic that we will get it ultimately," said de Blasio.
You can share this story on social media: