US Navy may increase Black Sea patrols – Admiral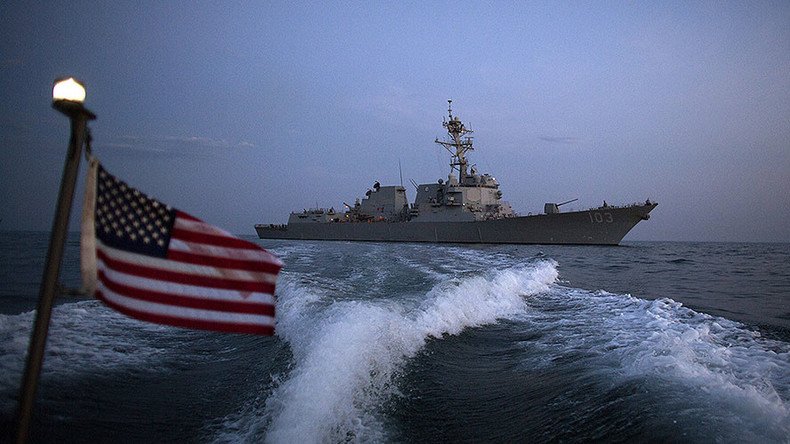 Washington may send more ships to the Black Sea in order to extend the amount of time they can patrol the area, according to a senior US Navy officer.
The US has sent a string of warships into the Black Sea since the Ukraine crisis broke out in 2014, and NATO refused to recognize Crimea's reunification with Moscow or Russia's military presence on the peninsula.
"It depends on whether or not the challenges in the region become more or less urgent," Vice Admiral James G. Foggo III told Sputnik on Wednesday, on the margins of the Defense Forum 2016, organized by the US Naval Institute in Washington, DC. "Obviously, when things become more intense you see the presence of additional ships."
Extending the length of US operations would require additional ships, since the 1936 Montreux Convention limits vessels of outside states to 21 consecutive days in the Black Sea.
NATO has floated the possibility of setting up a "Black Sea flotilla" to get around the restriction, but Romania was not keen on the idea, while Bulgaria has rejected it outright.
"We probably had a US Navy warship in there under a US flag, bilateral or multilateral operations about third of the year, NATO is in there operating about a third of the year, and the Russian Federation Navy is putting more assets in there and things are getting more crowded," said the admiral.
Foggo became the Director of Navy Staff last month, having previously served as commander of the US Sixth Fleet and deputy commander of US Naval Forces Europe. He commanded the NATO maritime task force during the 2011 intervention in Libya.
During his presentation at the Defense Forum, Foggo said the Navy's top current challenges were "Russians, Radicals and Refugees."
"We have to remain vigilant," Foggo told the conference, noting that the Russian navy had "some very effective weapon systems."
"They're out there and they're pretty good," he said.
By way of example, Foggo mentioned the incident in April 2016, when two Russian fighters buzzed the USS Donald Cook in the Baltic Sea. Senior US officers in NATO hurried to declassify the video of the event so they could seize the moral high ground in the "YouTube wars" and accuse the Russians of unprofessional and reckless behavior, he explained.
During the 6th Fleet's BALTOPS 2016 maneuvers, two Russian corvettes shadowed the 49 NATO ships, appearing on the sides of the group photo taken by the alliance's public relations officers. Foggo recounted declining the offer to edit the Russians out, joking that the photo could serve as proof he commanded a force of "more than 50 ships."
You can share this story on social media: