Texas sinkhole swallows 2 cars, kills sheriff deputy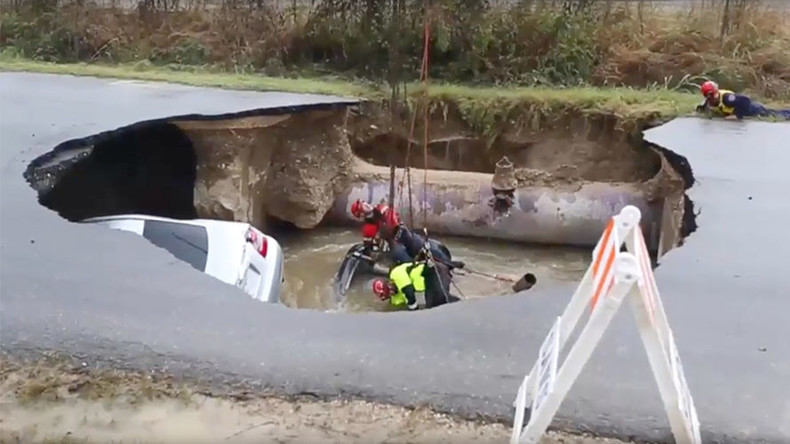 An off duty sheriff's deputy died and two other people were hurt when two vehicles plunged into a water-filled 10-20 foot sinkhole in San Antonio, Texas, officials reported.
The victim was identified as Deputy Dora Linda Nishihara, said the Bexar County Sheriff's office on Monday. The 69-year-old was a courthouse bailiff and had been with the sheriff's office for seven years. Her body was found inside the vehicle.
"The car was 90 percent submerged [and] had been in the water for an unknown amount of time. The survivability of anyone in that vehicle, there was no way [she was] going to survive. The car was upside down," San Antonio Fire Chief Charles Hood told reporters, according to NBC DFW.
Nishihara was not working when her vehicle went into the sinkhole, located in an industrial area of San Antonio, on Sunday morning.
The sinkhole was not reported until Sunday night, when officials said two passers-by rescued a man in his 60s after another vehicle went into the sinkhole. The driver and one of his rescuers were treated for minor injuries.
By the time first responders were able to make it to the scene they realized Nishihara's vehicle was already 90 percent submerged in the waters.
First responders found a broken 54-inch pipe and a pit measuring 10 to 20 feet deep that stretched the entire width of the road.
Robert Puente, president of San Antonio Water System, told reporters the pipe was near two construction projects – one that was completed last year and one that was still underway.
Puente said it was unclear what caused the pipe to rupture.
"The pit is full of sewer water," Puente added.
Firefighters removed the two vehicles from the sinkhole on Monday.
You can share this story on social media: