Florida voters seek presidential election recount
Published time: 6 Dec, 2016 18:26
Edited time: 7 Dec, 2016 10:22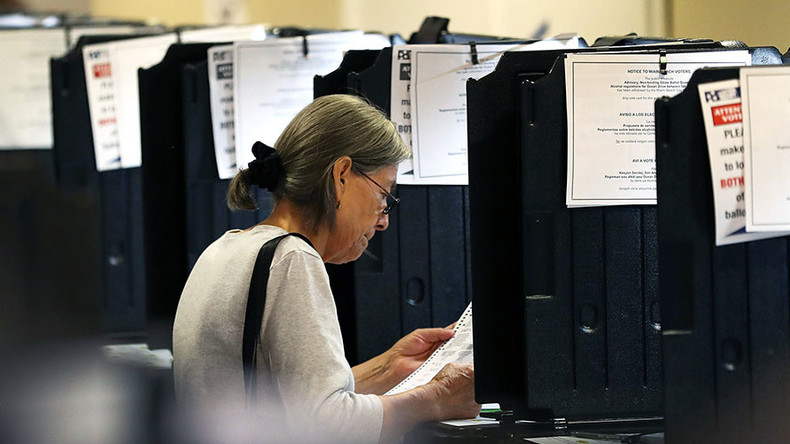 Voters in Florida have filed for a presidential election hand recount in their state, arguing that Democratic candidate Hillary Clinton won more votes than President-elect Donald Trump. The plaintiff's own lawyers said time isn't on their side.
In a lawsuit filed Monday in the central Florida Leon circuit court, the three plaintiffs argued the state's official election results were off because of hacking, malfunctioning voting machines and other problems, and that Clinton won more votes in the state than Donald Trump.
In an unusual move, the three voters demanded a hand recount of every paper ballot in the state at the expense of defendants including President-elect Trump, Gov. Rick Scott and 29 Republican presidential electors from Florida. Trump got more than 4.6 million votes in Florida, beating Clinton by more than 112,000 votes.
The lawyer for the plaintiffs said time isn't on their side and the defendants may not respond by the time the Electoral College meets on December 19.
"They can ignore it entirely," Clint Curtis, an Orlando attorney representing the plaintiffs told The Tallahassee Democrat.
Curtis claimed to have received a deluge of reports from voters across the state of problems on election day including people being turned away at the polls and told they had already voted.
Florida Division of Elections officials only reported a few "minor issues" on the day.
Curtis hopes Trump gets behind the recount in Florida.
"He's mentioned he wants to fix the rigged system," he said. "This will give the opportunity to do that. If it were a normal politician, I'd say our chances are very slim. But it's not a normal politician – it's Donald Trump."
There are currently ongoing recounts in the swing states of Michigan, Wisconsin and Pennsylvania, all of which were initiated by Green Party candidate Dr. Jill Stein. There is a partial recount of the race in Nevada requested by independent presidential candidate Roque De La Fuente.
In Wisconsin six counties completed their work by Monday with the margin between Trump and Clinton unchanged. Both candidates lost 20 votes.
In Michigan, a federal judge ordered a statewide hand recount of roughly 4.8 million ballots that started in two of the state's 83 counties on Monday. Six more started recounting on Tuesday.
Electoral College officials meet December 19 to officially elect the president.