FBI investigating 'very specific' threat to Los Angeles transit system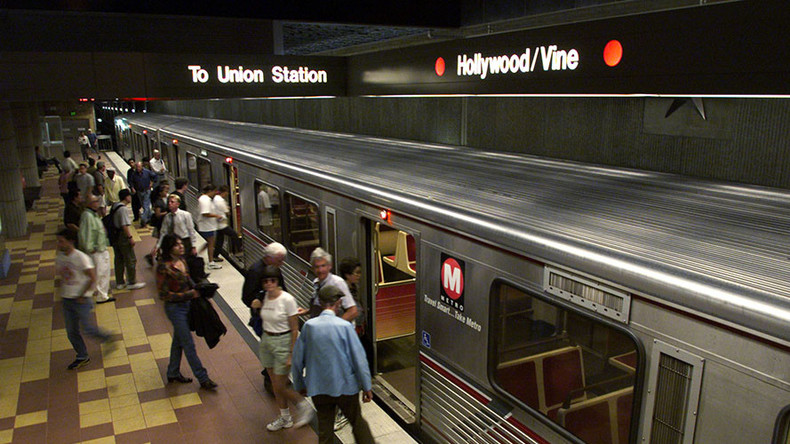 The FBI is investigating a threat to the Los Angeles metro system, after receiving information on Monday suggesting that an attack was set to be launched on a station used to visit Universal Studios on the network's Red Line on Tuesday, officials say.
The information came from an anonymous phone call to a public safety line overseas, FBI Assistant Director in Charge Deirdre Fike told a news conference. The tip line was run by an unidentified foreign government, according to the Los Angeles Times.
The caller indicated that something would occur at the Lankershim Boulevard station across from Universal Studios on Tuesday.
Los Angeles Police Department (LAPD) Chief Charlie Beck said that, while the threat was "very specific," its credibility "still needs to be vetted out," NBC Los Angeles reported.
While authorities try to determine if the danger is real, security has been beefed up at the station and other stations in the area. Los Angeles County Sheriff Jim McDonnell stated that there will be more uniformed and undercover officers throughout the transit system, along with K-9 units.
Meanwhile, McDonnell has urged Los Angeles residents to "remain calm but vigilant."
"This could be real, it could be a hoax. But we must remain calm but vigilant. And we're asking the public to take the same precautions they would take on any other day. And we ask that people always be vigilant as they go about their daily routines," he said.
Mayor Eric Garcetti has also encouraged residents to "go about their normal day," adding that people should prepare for random bag searches, but shouldn't be frightened by the heightened security presence. He stressed that he himself would be riding the Red Line from Universal City on Tuesday morning.
Nearly 150,000 people travel on the Red Line – which connects North Hollywood with central and downtown Los Angeles – every day, according to the Los Angeles County Metropolitan Transportation Authority.
The reported threat comes just five months after a pro-Islamic State (IS, formerly ISIS/ISIL) Twitter account warned that a "device" would be planted at either Los Angeles International Airport, New York's JFK airport, or London's Heathrow airport, but none of those airports was ultimately targeted.
Meanwhile, the New York Police Department (NYPD) was forced to take additional precautions in November after an IS propaganda magazine suggested carrying out an attack similar to the truck attack in Nice, France, which killed 86 people, on the annual Thanksgiving Day Parade, calling the event an "excellent target,"
Four days after the Nice attack, a Brooklyn man was arrested after having a conversation with an undercover FBI operative in which he allegedly advocated carrying out an attack in Times Square.