'I will cut your throat': Muslim NYPD officer in hijab and son attacked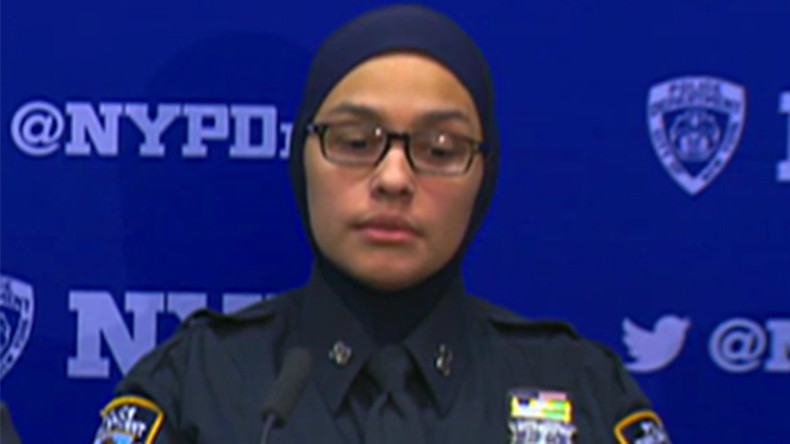 An off-duty New York City police officer and her son were the victims of harassment after they were physically and verbally attacked while dropping her son off in Brooklyn. The man who allegedly targeted them because the officer is Muslim.
Officer Aml Elsokary was called a hero by the New York Police Department (NYPD) after she saved a baby and the child's grandmother from a burning building in 2014. But on Saturday, Brooklyn-based Christopher Nelson, 36, called her an "ISIS [expletive]" after seeing her in a hijab.
The incident began at about 6:00pm in Bay Ridge, Brooklyn, where Elsokary had dropped off her 16-year-old son on a corner and went to park her car. When she returned, she found Nelson shoving and yelling at her son. Nelson turned his attention to Elsokary and said, "ISIS [expletive], I will cut your throat, go back to your country," WCBS reported.
Nelson was taken into custody on Sunday and charged with with menacing as a hate crime and aggravated assault in the second degree. Nelson's neighbors were shocked to hear about the crime.
"I'm very surprised, yes, I am surprised," Linda Rasport told WCBS, "because I never saw that in him. He's always been very nice to me and other people in the building."
The NYPD and New York City Mayor Bill de Blasio rallied around the decorated officer and led a press conference where de Blasio said, "there are not enough people who know there are 900 Muslim Americans serving the people of New York City on our police force."
The mayor added, "it makes no difference to me whether she was off duty of on duty at the time," and called Elsokary "an example of everything we would want from our fellow citizens, a commitment to others, a commitment to service."
"Think of what we value in this city and in this nation," he told reporters.
Police Commissioner James P. O'Neill said, "if anybody in New York City is thinking about engaging in this type of behavior, just rest assured that you will identified and you will be arrested and you will be charged accordingly."
Elsokary spoke as well, explaining that she became a police officer "to show the positive side of a New Yorker, a Muslim woman that can do this job" and said "I can help anybody, no matter what's your religion, what's your faith, what you do." She also thanked her department for supporting her choice to wear her hijab as well as the Muslim Officer Society for their support.
You can share this story on social media: