Trump names Ben Carson as housing secretary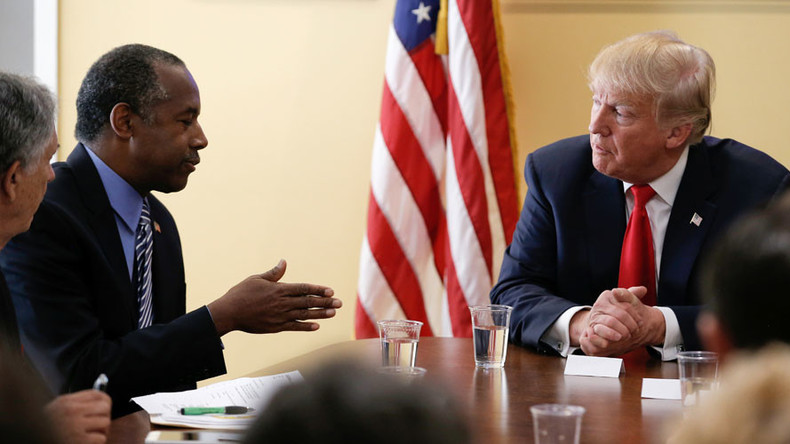 President-elect Donald Trump has chosen former Republican rival Dr. Ben Carson as secretary of the Department of Housing and Urban Development.
Carson, a retired neurosurgeon, was an early endorser of Trump after dropping out of the Republican primaries where he and the businessman clashed bitterly. A Carson spokesperson previously said he would not seek a cabinet position as he didn't have the experience to run a federal agency.
"Ben Carson has a brilliant mind and is passionate about strengthening communities and families within those communities," Trump announced Monday morning.
"We have talked at length about my urban renewal agenda and our message of economic revival, very much including our inner cities. Ben shares my optimism about the future of our country and is part of ensuring that this is a presidency representing all Americans."
"I am honored to accept the opportunity to serve our country in the Trump administration," Carson said. "I feel that I can make a significant contribution particularly by strengthening communities that are most in need."
"We have much work to do in enhancing every aspect of our nation and ensuring that our nation's housing needs are met."
The Department of Housing and Urban Development has a $47 billion budget. Created in 1965 to "to increase home ownership, support community development and increase access to affordable housing free from discrimination," it is in charge of providing rental assistance and vouchers for low income families and provides support for families facing foreclosure.
The HUD's agencies include the Federal Housing Administration (FHA), Community Planning and Development, Public and Indian Housing, Government National Mortgage Association (Ginnie Mae), and Fair Housing and Equal Opportunity.
"After serious discussions with the Trump transition team, I feel that I can make a significant contribution particularly to making our inner cities great for everyone," Carson wrote in a Facebook post that hinted at the offer in late November. "We have much work to do in strengthening every aspect of our nation and ensuring that both our physical infrastructure and our spiritual infrastructure is solid."
"An announcement is forthcoming about my role in helping to make America great again," he added.
Although Carson lacks experience in such a position, he lived in public housing in Detroit as a child and treated patients from the inner city, so he does possess an understanding of the realities low income families face.
"We cannot have a strong nation if we have weak inner cities," he told Fox News. "We have to get beyond the promises and start really doing something. The amount of corruption and graft and things, shell games that are played — we need to get rid of all that stuff."
"Our inner cities are in terrible shape," he added. "And they definitely need some real attention. There have been so many promises made over the last several decades and nothing has been done, so it certainly is something that has been a long-term interest of mine."
Carson took Trump on a tour of Detroit during the presidential election.
Carson has made some interesting statements about poverty and housing in the past, claiming "poverty is really more of a choice than anything else," and describing fair housing policy as "social engineering."