Majority of Democrats believe Israel is 'burden' on US – poll
Published time: 5 Dec, 2016 11:41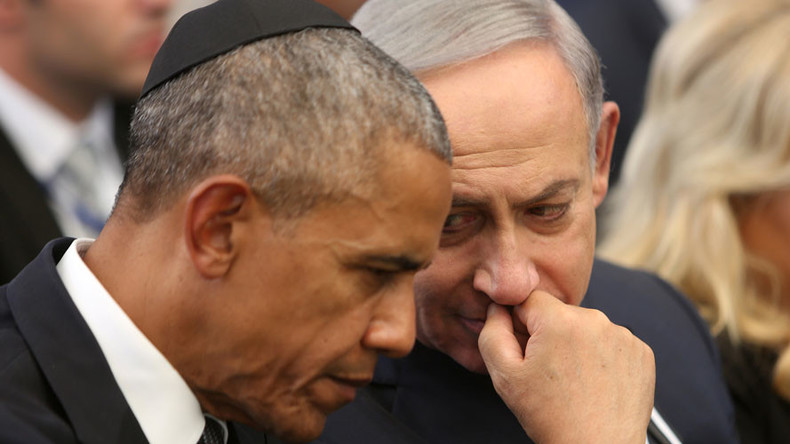 The majority of Democrats believe Israel is a "burden" on the US and has too much influence on American politics, according to a survey. The poll also found that most favor economic sanctions or "more serious action" against Israel for its settlement expansion.
The Brookings Institution survey, released Friday, was conducted between October 5-14, and surveyed a total of 1,528 people. The margin of error is 2.5 percent.
Particularly, the institute found that 55 percent of Democrats believe Israel is a burden to America, compared to just 24 percent of Republicans and 41 percent of Independents.
But despite the Jewish state apparently being an encumbrance, a large majority (76 percent) of all Americans still believe Israel is an important ally to the US, as it provides military and intelligence cooperation and plays a region role helpful to American interests.
Republicans were the most likely to say Israel was an ally, with 85 percent believing so. Although 70 percent of Democrats and 68 percent of Independents also agreed that Israel was an important friend, those parties were more than twice as likely as Republicans to disagree with that statement.
Americans aged 55 and older were most likely to say that Israel was an important ally to the US, with 86 percent of those polled in the age bracket saying so. Younger age cohorts were still likely to answer in the affirmative, with 70 percent of 18- to 34-year-olds and 71 percent of 35- to 54-year-olds holding the same belief.
Israeli settlements
When it comes to Israeli settlements, 60 percent of Democrats support imposing economic sanctions or "more serious action" – compared to just 49 percent in November 2015.
Republicans also saw a jump in the numbers of people supporting such measures, albeit a much smaller one, from 26 percent last year to 31 percent in the current survey.
When asked how the US should react to new settlements, the majority of Americans support Washington doing nothing or limiting its opposition to words. Republicans and Independents were most likely to agree with this (68 percent and 54 percent respectively), while just 37 percent of Democrats agreed with the restrained approach.
Trump & Israel
When asked which way they would like to see President-elect Donald Trump lean when it comes to the Israel-Palestine conflict, most Americans (57 percent) said they would prefer if he maintained a neutral stance.
Republicans were the most likely to say that Trump's administration should lean toward Israel, with 56 percent saying so – compared to just 17 percent of Democrats and 29 percent of Independents. Less than 1 percent of Republicans believed the new administration should lean toward the Palestinians.
Despite most Americans preferring Trump to remain neutral, the same amount of Americans said they still believed he would lean toward Israel.
While Trump's official views on Israel still largely remain a mystery, the president-elect was congratulated on his election win by Israeli Prime Minister Benjamin Netanyahu last month, with the leader calling him a "great friend of Israel" in a video message.
"Over the years, you have expressed your support consistently, and I deeply appreciate it," he said at the time, adding that he looks forward to working with Trump to "advance security, prosperity, and peace."
On Sunday, Netanyahu told a Washington conference on the Middle East that he looks forward to speaking to Trump about the West's "bad deal" with Iran, referring to the nuclear agreement reached between Tehran and six world powers in 2015.