Russia is 'No. 1 threat' to United States, Air Force secretary claims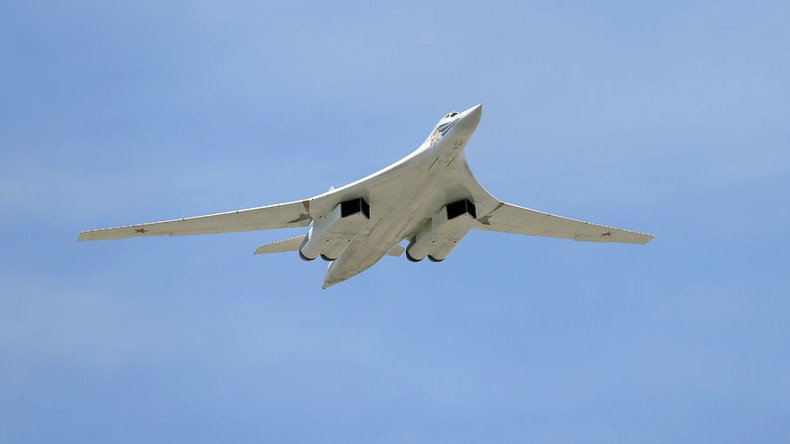 The Secretary of the US Air Force has once again claimed that Russia is the "No. 1 threat" faced by the US, with several defense officials expressing similar opinions. It follows promises by US President-elect Donald Trump to improve relations with Moscow.
"Russia is the No. 1 threat to the United States. We have a number of threats that we're dealing with, but Russia could be, because of the nuclear aspect, an existential threat to the United States," Air Force Secretary Deborah James told Reuters at the annual Reagan National Defense Forum on Saturday.
She went on to speak of "very worrying" incidents of "very dangerous airmanship" by Russia, as well as alleged cyber-attacks by Russian hackers on US institutions.
James' statements were echoed by chief of Naval Operations Admiral John Richardson and Pentagon chief arms buyer Frank Kendall, all of whom voiced growing concern about what they claim is Russia's increasingly aggressive behavior.
Richardson told Reuters that increased Russian naval activities are taking place across the globe. He cited Moscow's deployment of a carrier strike group to the Mediterranean, the firing of missiles from ships in the Caspian Sea, increased submarine activities in the northern Atlantic, and a growing naval presence in the Pacific.
He said there are continuing incidents involving Russian aircraft buzzing US vessels, with some coming as close as 30 feet. He also cited cases where ships were allegedly behaving "erratically."
"It's all for public consumption," Richardson said, claiming that Russian ships often filmed the encounters and edited them to make it appear as if US ships were at fault.
Richardson went on to state that Washington and Moscow have an agreement to limit and discuss incidents at sea, but that the accord appears to be having limited impact on curbing such incidents.
"More communication with Russia would be a valuable thing," Richardson said, noting that dialogue between US and Russian naval officers has ceased since Russia's reunification with Crimea following the 2014 referendum.
Meanwhile, Kendall said that US policy, which had previously been focused on threats in the Asia-Pacific region and the Middle East, is now being focused more on Russia.
"Their behavior has caused us… to rethink the balance of capabilities that we're going to need," he said.
Speaking at the conference, Marine Corps General Joseph Dunford, chairman of the Joint Chiefs of Staff, accused Russia of aiming to counter NATO and undermine its credibility while limiting the ability of the US military to project power around the world.
"They are operating with a frequency and in places that we haven't seen for decades," he said, noting Russia's involvement in Ukraine, Crimea, and Syria.
Army Secretary Eric Fanning also told a panel at the conference that Russia was acting in a "destabilizing way."
It is not the first time that James has named Russia as the biggest threat to the US. In August, she told Fox News that she thinks the "number one threat is Russia," adding that it is "one of the handful of [countries] that could actually present an existential threat to the US."
"They have nuclear weapons. They have been acting [in] very aggressive manners in recent years. And they are also investing and are testing military capabilities… that is very worrisome for the United States and to our allies," she elaborated at the time.
Dunford was also treading old ground during his Saturday speech. He said extremely similar words to James in July 2015, claiming that "Russia presents the greatest threat to our national security… if you want to talk about a nation that could pose an existential threat to the United States, I'd have to point to Russia."
None of the officials gave details about how Russian concerns would affect the Pentagon's fiscal 2018 budget request, but defense officials have noted the need to focus on areas such as cyber security, space, nuclear capabilities, and missile defense – areas where Russia has developed new capabilities in recent years. The budget request is expected to be submitted in April at the earliest, and will likely be significantly reworked once Trump takes office.
Despite the officials' cited concerns about Russia, President-elect Donald Trump has vowed to strengthen ties between the two countries, repeatedly stressing that it would be great if the two nations could get along, and citing a common desire to combat Islamic State (IS, formerly ISIS/ISIL). Russian President Vladimir Putin expressed a willingness to cooperate with the Trump administration during his annual address to Russian lawmakers on Friday, saying that Moscow and Washington "have a shared responsibility to ensure international safety."
For its part, Moscow has expressed its own concerns about US and NATO military activity in recent months, with Kremlin spokesman Dmitry Peskov calling the Western alliance an "aggressive bloc" in November. He said that Russia has the right to protect itself against NATO's eastward expansion, saying it has "all the sovereign rights to take the necessary measures across all the territory of the Russian Federation."
Peskov's statements were echoed by Russian Defense Minister Sergey Shoigu earlier in November, when he stated that Russia was being forced to take reciprocal defensive measures in response to the US and NATO building up their offensive capabilities on the Western borders of Russia and Belarus.
He stated that in order to address security challenges, Russia was supplying state-of the art armaments and weapons systems to army units guarding the Western borders, as well as ramping up combat training for troops.
In October, Russia's Permanent Representative to NATO, Aleksandr Grushko, said that NATO's buildup close to Russian territory could have a negative impact on the general security situation in the region.
"NATO's [systematic] efforts have been changing the very essence of the military security in the regions which are adjacent to the Russian border," Grushko told Rossiya-24 channel, noting that the alliance's ongoing military buildup in its eastern flank is "some sort of project that not only does not correspond to the common European security interests, but goes against them."
You can share this story on social media: