Death toll from Oakland warehouse fire rises to 36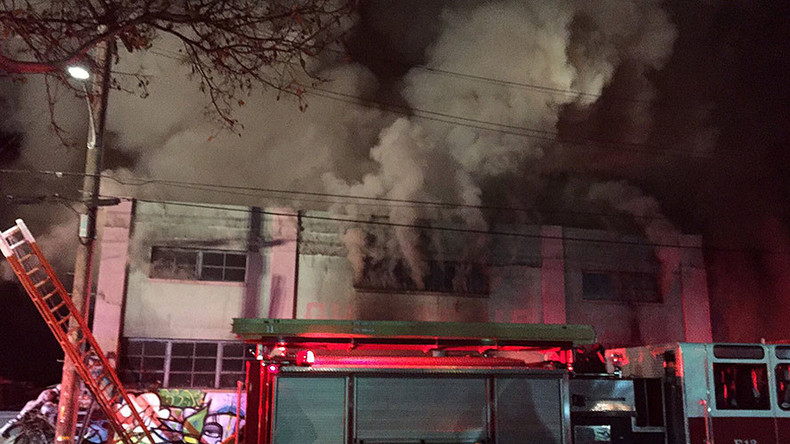 At least 36 people lost their lives in the inferno which destroyed a California artist space on Friday night, the mayor of Oakland has confirmed. The authorities are expecting the death toll to rise.
UPDATE:
Oakland Mayor Libby Schaaf confirmed at a press briefing that the death toll had risen to 36. Eleven of the deceased have been identified so far.
She said that a criminal investigation team has been deployed and inspectors are at the scene. Schaaf added that the humane removal of victims is the city's first priority.
The Alameda County Sheriff's Department said it was unclear how many people are left inside. The victims range from teenagers to people in their 30s, and reportedly include foreign nationals.
Earlier, Alameda County Sheriff Sargent Ray Kelly told reporters on Sunday that the death toll from the venue, dubbed the Oakland Ghost Ship, had spiked from 24 to 30.
Investigators at the site are still trying to determine the cause of the deadly fire. Earlier, Kelly said arson was not suspected and that the warehouse isn't currently being viewed as a crime scene.
Eighty percent of the building has yet to be searched, Melinda Drayton, battalion chief at the Oakland Fire Department, said.
The search will be a "long and arduous process," as the firefighters have been going through the debris, "bucket by bucket," she said.
"It was quiet; it was heartbreaking," Drayton added.
People are still reporting missing relatives and friends who were among the crowd at the ill-fated show.
The blaze broke out in a converted warehouse on 31st Ave in Oakland during a party advertised as a 'Rave Cave,' which was part of musician Golden Donna's West Coast tour.
The fire raged for several hours, requiring over 50 firefighters to douse.
There have been reports that the building had no sprinkler system, and it appears that no smoke detectors went off during the blaze.