One-staircase 'labyrinth': Oakland fire survivors share accounts, claims of safety violations emerge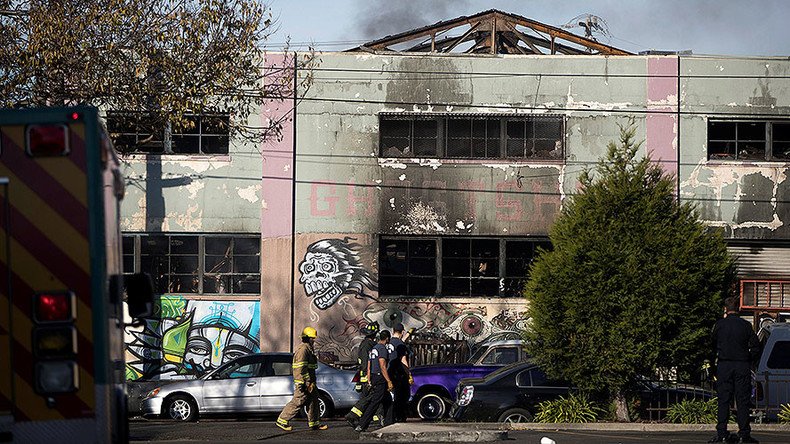 Survivors of a deadly blaze have shared their accounts of getting out of an artist space dubbed the Oakland Ghost Ship that went up in flames on Friday night. Neighbors and attendees of previous parties at the venue claim it had no fire sprinklers.
The fire broke out in a two-story warehouse that housed an artists' studio on 31st Ave in Oakland during a party advertised as a 'Rave Cave,' which was part of musician Golden Donna's West Coast Tour.
One survivor, Adrian Lee, told the San Francisco Chronicle that he was on the second floor with his friends when the fire broke out.
"We didn't see much smoke," he said. "It was just a plastic-ey, toxic, chemical-type smell."
People started panicking, he said, adding that "for the first half, people didn't know what was going on. It didn't seem like anything drastic had happened yet."
"The building itself was an art piece. The walls were completely covered with makeshift pieces of wood, so finding the staircase if you'd never been there before was difficult because they had built it into the wall in a certain way," said Laura Hobbs, 24, who attended the party. "I can't imagine how long it'd take 40 people to get out even in a calm situation," she added.
According to Seung Y. Lee, 24, who arrived 15 minutes before the tragedy, the second floor was "the social hub" of the evening. When he returned there with several non-alcoholic drinks, he saw flames and smoke coming out of the back of the second floor.
He said that he saw about 60 to 70 people in the building.
"The front windows were just billowing thick, black smoke at such a furious pace," Seung Lee said.
The fire raged for several hours, with over 50 firefighters drafted in to tackle the blaze. How it started is still unknown.
Bob Mule, a resident artist in the building, told ABC affiliate KGO-TV that it all "happened really quick."
"We tried to figure out where the smoke was coming from and then we saw where the fire was – it was on the back-left corner of the space – and starting yelling and trying to get everyone out,"said Mule.
Yet many neighbors and those who have attended parties in the building in the past said that the conditions there were not safe.
People who had lived in the building told LA Times that it lacked fire sprinklers.
"It was a tinderbox," Brooke Rollo, 30, who used to attend parties there said, as cited by LA Times.
Oakland deputy fire chief Mark Hoffmann described the scene inside the warehouse as a death trap.
"It was just a labyrinth of little areas. We knew people were in there, and we were trying to get them out. But it was just a labyrinth," Hoffmann told reporters.
According to Darin Ranelletti of the Oakland Planning Department, there had been complaints about unsanctioned construction at the building.
"There was a complaint that there was light in the adjacent lot, debris, garbage and trash. We were able to confirm that those violations were accurate," Mr Ranelletti said, as cited by ABC news. "Regarding the illegal construction, that was for interior construction within the building itself," he said, adding that, in November, an inspector had failed to gain access to the building.
Nine bodies were pulled from the debris and transported to the coroner's office for identification, Alameda County Sheriff's Office stated in a press briefing on Saturday.
"We expect the death toll from this event to rise," Alameda County Sheriff's Sargent Ray Kelly said, adding that dozens of people are still unaccounted for.
The authorities have decided to use heavy equipment to remove the debris.
Public drive to raise funds for victims
Several groups have started fundraising campaigns for the victims, with one petition initiated by Oakland Athletics, an American professional baseball team already collecting over $35,000.
Another fundraising initiative launched by Gray Area Foundation for the Arts, a new media arts organization and exhibition space in San Francisco, California, has taken in over $85,000.
The Golden State Warriors, an American professional basketball team, said it will donate $50,000 to the Unity Council, a group in the Fruitvale District where the incident took place.
You can share this story on social media: