300,000+ honey bees die in mysterious hives attack, poison suspected – report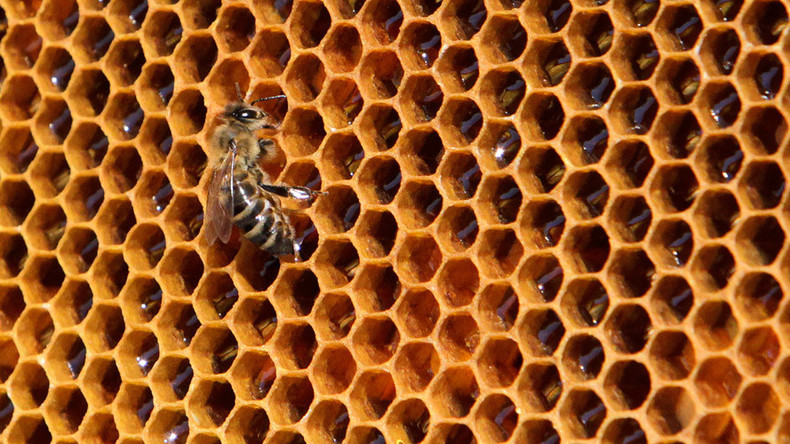 More than 300,000 honey bees have been killed in a suspected poison attack, in which alleged vandals devastated at least 20 hives at a private bee farm in Washington.
Owners at the Sequim Bee Farm thought a bear got its paws on their honey when they saw one of their hives knocked over. However, that story just did not pan out.
"We knew a bear wouldn't just stop pushing over with all the honey in the hive," Buddy Depew said, according to Peninsula Daily News. "I got to looking, and the rest of the hives, the bees, were all gone."
Depew then found that even though the bees were gone, honey in those hives was left untouched. He now believes that vandals poisoned his bees, specifically because yellow jackets, known to steal honey rather than make, were also dead.
Depew and his wife Meg are now missing 20 hives, nearly half of what they owned. The vandalized hives were outside the fence, surrounding their private land. Should a culprit be caught, criminal mischief charges would follow.
"That's going to be a large dip in how much," Depew said when asked about the monetary impact, including a $5,000 profit loss. "We're going to have pretty good loss right there."
READ MORE: Common pesticide kills up to 40% of sperm in bees, possibly leading to shrinking population – study
Local police are also at a loss, because it is the first time they have ever dealt with such a case. The Clallam County Sheriff's Office took the report on November 21, but there has been no suspect on the radar yet. To Depew, it is a mystery why anyone would want to harm the sensitive creatures.
"There's other things that would have hurt a lot less," Depew said. "These guys we need to try to help along as much as possible because we've almost reached the tipping point."
According to a February study by a United Nations group, both domestic and wild honey bees are disappearing at an alarming rate, which can eventually affect people.
In September, seven species of wild bees were placed on the endangered-species list for the first time in the US.
The wellbeing of common honey bees has also been a concern in the White House. In May 2015, the Obama administration unveiled the National Strategy To Promote The Health Of Honey Bees And Other Pollinators.
"Honey bee pollination alone adds more than $15 billion in value to agricultural crops each year, and provides the backbone to ensuring our diets are plentiful with fruits, nuts and vegetables," the White House said at the time, stressing the critical importance of pollinators to America's economy.
According to data, cited by the administration, since the 1940s, the number of bee colonies used in US honey production declined, approximately from 5.7 million to 2.74 million.
"As many in beekeeping and the apiculture research field may know, honey bees have been suffering increased losses over the past decade in numbers that have been exceeding 30 percent to 40 percent of all colonies in the nation each year," the Bee Informed Partnership said in a 2015 report.
Meanwhile, Buddy and Meg Depew are hoping to get back on their feet and pursue their plan of increasing the number of hives. The attack on their bees came at the time when they were planning to expand from 45 hives up to 100 and then, eventually, to 150.
"It's going to put a little bit of a damper on it," Buddy Depew said. "If we're lucky, we can get it up to 75."
You can share this story on social media: