Amnesty demands DOJ probe into treatment of DAPL protesters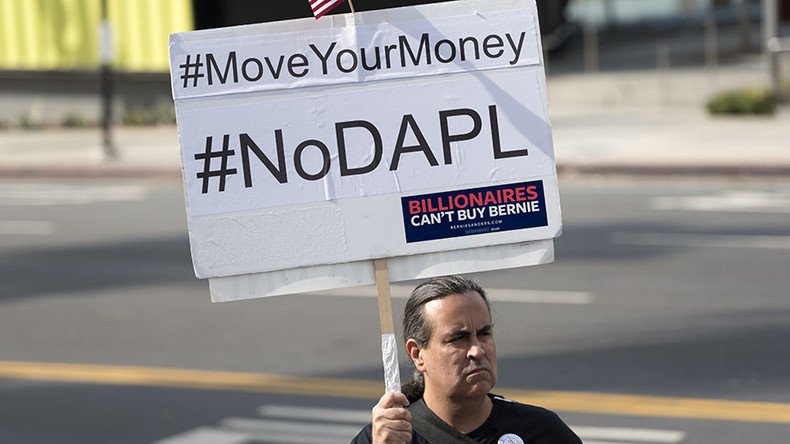 Amnesty International USA (AIUSA) has called for an investigation by the Department of Justice into the policing of protesters of the Dakota Access Pipeline.
The organization made the official request after four AIUSA human rights observers found that police used "tear gas, concussion grenades and fire hoses against protesters in sub-freezing temperatures". Referring to their findings, the organization said, "we believe federal oversight is necessary."
READ MORE: 'Excessive military-style force' used against DAPL protesters, says US Commission on Civil Rights
"We believe that an investigation by your office of the policing of the Dakota Access Pipeline demonstrations in North Dakota is warranted, and that the Civil Rights Division should deploy observers to the area to ensure that the rights of people opposed to the pipeline are respected, protected and fulfilled," AIUSA executive director Margaret Huang wrote in a letter to the DOJ
"Should your investigators uncover any civil rights violations by law enforcement, individual officers should be charged and prosecuted as warranted," Huang continued.
On November 22, the US Commission on Civil Rights called for officials to de-escalate tensions and guarantee safety of protesters exercising their First Amendment Rights after "reports and testimony" highlighted the "use of military-style equipment and excessive force against protesters".
Last Monday, several protesters filed a class action lawsuit against Morton County and Law enforcement agencies for alleged "illegal use of force" with "highly dangerous weaponry" on the night of November 20 and early morning of November 21.
The most serious injury to date was sustained by 21-year-old protester Sophia Wilansky who faces possible arm amputation after being struck by an alleged concussion grenade used by law enforcement officers during an altercation with pipeline security on November 21.
READ MORE: DAPL protesters for Sophia Wilansky burn US flag, occupy Times Square
Activists are demonstrating against the pipeline's proposed route which involves running under a river less than a mile from the Standing Rock reservation. The route has prompted fears it will harm the Standing Rock Sioux Tribe's water source.
The company involved, Energy Transfer Partner, has reportedly suffered leaks of more than 18,800 barrels of oil in US pipeline spills since 2005.
The DOJ previously said it would not authorize the crossing under Lake Oahe until it has reviewed the issues raised by the tribe.
You can share this story on social media: