Inmate's genitals pepper-sprayed, prison guard charged with simple assault
Published time: 30 Nov, 2016 02:05
Edited time: 30 Nov, 2016 12:10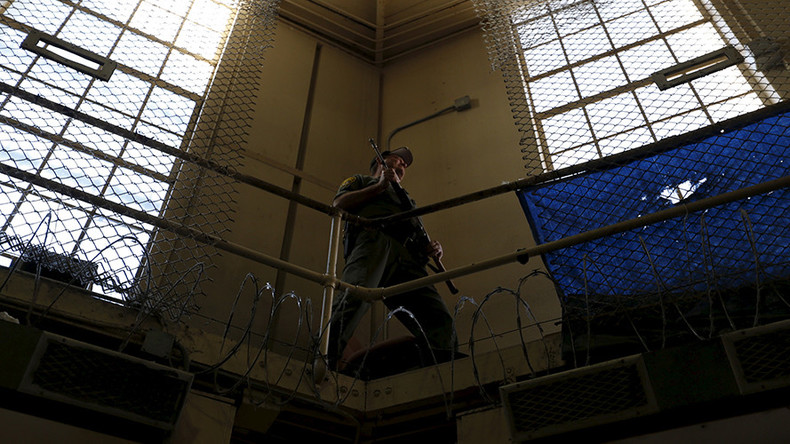 A Lackawanna County Prison guard has been placed on paid leave after being accused of grabbing an inmate by the throat, pulling his hair and using a pepper spray-like substance on his genitals. The guard now faces assault charges.
Sergeant Scott Blume is charged with assault and harassment after the majority of the September 24 incident was caught on video. Blume is accused of attacking an inmate – including pepper-spraying his genitals.
According to the affidavit, the incident began when an inmate was caught drinking alcohol and needed to be escorted to the restricted housing unit by Blume. Blume led the inmate to a holding cell where he ordered him to change into a different uniform for the corresponding housing unit.
While the inmate was disrobing, the two argued and Blume proceeded to enter the cell where he grabbed the inmate by the throat and pulled his hair. The inmate continued to refuse to change his uniform and Blume responded by pepper-spraying the inmate through a slot in the door.
Blume claimed the pepper-spray was necessary to get the inmate to comply, but the inmate claimed that being sprayed in the genitals with mace without even a layer of clothing was extremely painful and left the inmate feeling "sexually violated," the Scranton Times Tribune reported.
The inmate's mother, who wished for her and her son's identity to be withheld, echoed this sentiment, telling WYOU: "I consider it a sexual assault if you're naked and someone is spraying your genitals."
A letter from her son described spending four days in pain following the assault.
"I want his job gone and his pay gone," the mother told WYOU.
Prosecutors have looked into the case, and while they do not feel the assault was sexual in nature, they do agree that the incident with Blume was an assault.
"We determined that the conduct, as we saw it, rose to the level of criminal charges," Lackawanna County District Attorney Shane Scanlon said.
"It appears as though the force used wasn't necessary based on what we were able to review," Scanlon told the Times Tribune. "We felt, based on the evidence before us, it rose to the level of simple assault and harassment."
Blume, a 14-year veteran at Lackawanna County Prison, is on paid administrative leave while he waits for his December 5 preliminary hearing.