Hundreds of Fight for $15 protesters arrested at rallies demanding higher pay across country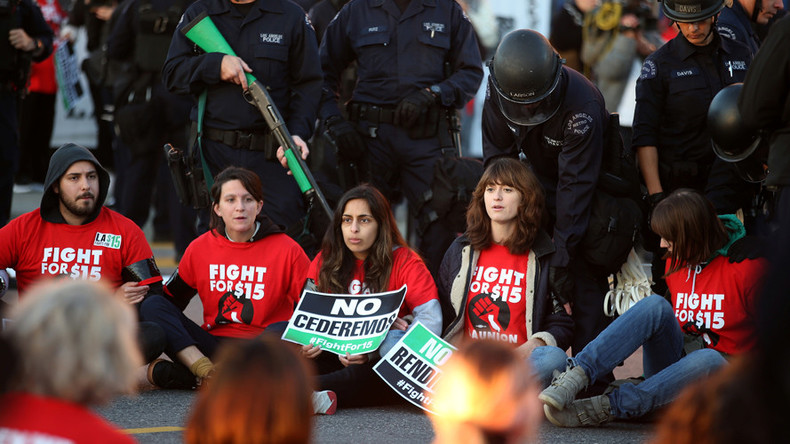 More than 150 people have been arrested at Fight for $15 protests, mostly in Detroit, Los Angeles and Cambridge, Massachusetts. This is the first Fight for 15 protest since Donald Trump became the president-elect.
Workers across the US staged demonstrations as part of a national day of action to demand an increase in the minimum wage to $15 an hour, or what they call a living wage.
Fight for 15 protesters in Kansas City, Missouri were arrested Tuesday evening following a sit-in that blocked traffic.
In Durham, North Carolina, protesters also encountered police, chanting, "Hands up, don't shoot!"
Organizers for the campaign have promised that the protests, which they have called the Day of Disruption, will be the "largest, most disruptive" of the four-year campaign. The demonstrations both honor the anniversary of the Fight for $15 and respond to Trump's victory at the beginning of the month. They are expected to occur in 340 cities across the country.
"Just because the election went a certain way, doesn't mean we're going away," Kendall Fells, organizing director of the Fight for $15, told the Hill newspaper. "It's the exact opposite."
The protests "will underscore that any efforts to block wage increases, gut workers' rights or health care, deport immigrants or support racism or racist policies will be met with unrelenting opposition by workers in the Fight for $15," organizers said.
Street cars were blocked in New Orleans Tuesday evening.
Lawmakers in New York City and in Cambridge are among those who have been taken into custody at nationwide demonstrations.
Protesters in New Orleans, where 95 percent of all fast food workers are black many bringing home pay checks of less than $100, chanted "Hold that burger, slow those fries, make our wages supersize!"
More than 50 people were arrested for blocking traffic in front of a McDonald's on the west side of Detroit on Tuesday morning. The protests were peaceful and no one resisted arrest, Detroit Police Commander Elvin Barren told WJBK. Another demonstration occurred outside a McDonald's in Flint, Michigan, where residents are still dealing with the fallout of lead in their water supply.
"This is for childcare workers, homecare workers, fast food workers, retail workers, airport workers and just minimum wage across the board," Detroit Rev. W.J. Rideout said at the protest.
In Los Angeles, about 40 people were arrested for failure to disperse after a group blocked an intersection in downtown LA just before 7:00am, Los Angeles Police Department Detective Meghan Aguilar told KTLA. The protesters had split off from a larger group of about 2,000 people who were marching outside of a McDonald's.
Another demonstration is planned around noon local time outside Los Angeles International Airport (LAX). Travelers have been warned of delays due to the protest.
At the Fight for $15 LA demonstration, a speaker acknowledged that the city had already passed a $15 per hour minimum wage law, making the protest's central demand about unionizing workers.
Non-union service workers at Chicago O'Hare International Airport in Illinois were already on strike, but also held a rally in support of a living wage and the Day of Disruption. Some of the striking non-unionized janitors, baggage handlers, cabin cleaners and wheelchair attendants currently earn $10.50 an hour, which is the Windy City's minimum wage, according to UPI.
Along with the protest at O'Hare, there were demonstrations at Northwestern Memorial Hospital and fast food restaurants across the city. Chicago police issued tickets to 55 people at a protest in the West Town neighborhood, the Chicago Sun Times reported.
In Cambridge, State Senator Jamie Eldridge (a Democrat), was one of nearly three dozen people arrested for sitting in the street. City police described the arrests as "pre-planned."
Raise Up Massachusetts will also protest in front of the Statehouse in Boston later on Tuesday. The minimum wage in Massachusetts is scheduled to rise to $11 an hour on January 1.
Politicians were also among the protesters arrested in New York City. City Council Members Mark Levine, Brad Lander and Antonio Reynoso and Assemblyman Francisco Moya were arrested, along with about 20 others, for sitting in the street on Broadway and refusing to comply with police officers' instructions to move, Gothamist reported.
"Getting arrested today is part of a long tradition of civil disobedience, and it takes a little courage. But it is nothing compared to risking your job," Lander wrote in an essay in The Nation about the Day of Disruption.
Among the arrested was Jose Carillo, an 83-year-old McDonald's worker.
"Us families these days are struggling so hard that it's ridiculous," Yvonne Rodriguez, a worker at a Dunkin Donuts in Hartford, Connecticut, told WTNH as she walked a picket line. "We are only fighting for what we deserve and what is right for us."
For the first time since the Fight for $15 began, Uber drivers are participating in the protest. They will predominantly make their presence known at San Francisco International Airport in California, where the company is based.