'Hypocritical joke': Trump's chief-of-staff slams Clinton camp for taking part in recount
Published time: 28 Nov, 2016 10:31
Edited time: 28 Nov, 2016 10:31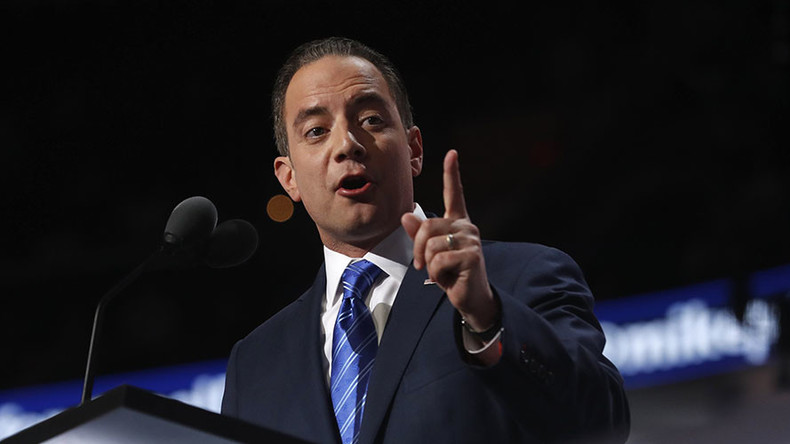 Donald Trump's incoming chief-of-staff slammed the Clinton campaign's participation in the Wisconsin recount, calling it "hypocritical" and suggesting the Democratic candidate is backtracking on the deal which outlined how the loser would concede the race.
In an interview to Fox News Sunday, Reince Priebus said that Trump and Clinton had struck an agreement in which they would phone their opponent to concede the race within 15 minutes of the Associated Press calling it for the rival.
Although he admitted that Clinton held up her end of the deal on the election night, Priebus is now questioning whether the Clinton campaign's decision to participate in the Wisconsin recount effort is in violation of that agreement.
"It is a total and complete hypocritical joke that the group of people that thought that they were nervous about President-elect Trump not conceding are the people that are conducting recounts in states where we won by over 68,000 votes," Priebus said.
"I think the American people know this is a waste of everyone's time and money," Priebus went on, aimed only "to divide this country when we need to come together no matter who you are."
He went on to claim that nothing would change following the recount organized by Green Party candidate Dr. Jill Stein, calling the effort a "notoriety-driven fraud by someone who won 33,000 votes in Wisconsin to President-elect Trump who won 1.4 million."
"We will win again for the second time and they will lose again for the second time," he said.
The Clinton campaign announced that it would participate in the recount effort over the weekend, stating it feels it has an "obligation" to make sure an "accurate vote count will be reported."
The recount was filed by Stein in Wisconsin on Friday. She has pledged to do the same in Pennsylvania and Michigan. All three states are swing states where Trump won by narrow margins.
Trump himself has, not surprisingly, taken to Twitter to share his feelings on the recount, calling it a "Green Party scam to fill up their coffers."
The Green Party scam to fill up their coffers by asking for impossible recounts is now being joined by the badly defeated & demoralized Dems

— Donald J. Trump (@realDonaldTrump) November 27, 2016
He also quoted Clinton's own words during her concession speech, in which she said the Republican candidate deserves the chance to lead. He noted that "so much time and money" will be spent getting the "same result."
Trump is going to be our President. We owe him an open mind and the chance to lead." So much time and money will be spent - same result! Sad

— Donald J. Trump (@realDonaldTrump) November 27, 2016