Florida boy calls 911 inviting sheriff's deputies to Thanksgiving dinner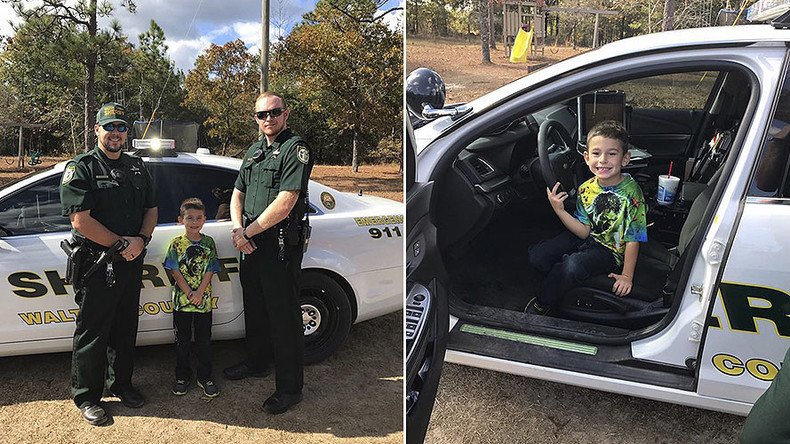 A five-year-old boy called the emergency services to invite local Florida deputies over for Thanksgiving dinner. The boy's call enchanted dispatchers and deputies, who let the boy sit in their patrol car and blast the emergency siren.
"Will you come over cause we're eating Thanksgiving," Billy Nolan inquired. "Thank you. Bye."
The Walton County, Florida 911 dispatcher was happily puzzled by the short but sweet invitation.
"With all the bad calls we take on a daily basis this one was a welcomed happy call that made all of us smile," Lead Communications Officer Monica Webster told the Northwest Florida Daily News.
Billy's family said he extended the invitation to the feast without his family knowing. It was only when his grandfather saw him talking on a cell phone and his mother asked him what he was doing that all was revealed.
Minutes later, Deputy Dannon Byrd from the Sheriff's Office drove up.
The deputy asked if Billy was the young man who had called 911. Instead of scolding him, they thanked him for his invitation while reminding the boy 911 is for emergencies only.
Byrd and his partner gave the boy a sheriff's badge and allowed him to sit in their patrol car and activate the lights and siren.
"They asked him what he wanted to be when he grew up," Landi McCormick, Billy's mother, told the NWF Daily News. Billy reportedly said, "I want to be a cop, so I can be nice to little kids like me some day."
Billy had become aware of the Walton County Sheriff's Office when deputies visited his school for Dads and Donuts Day.
"I wanted them to have cheesecake with us," Billy said explaining why he invited the deputies. "It's my favorite, so I wanted them to have some, too."
Photos from the visit were posted on the Sheriff's Office Facebook page, and the post quickly went viral. Folks from all over the country praised the deputies and Billy for their kindness.
You can share this story on social media: