Jill Stein raises $4.5mn for vote recount in swing states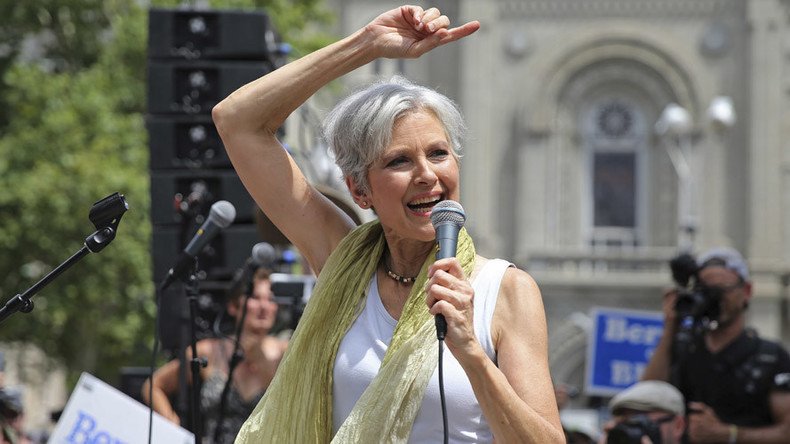 After meeting her goal of raising $4.5 million in just over 24 hours to cover vote recount costs in the swing states of Wisconsin, Pennsylvania, and Michigan, Dr. Jill Stein has once again upped her fundraising game, now asking for a total of $7 million.
The first goal was funding for Wisconsin, completed just in time to meet the recount filing deadline of November 25. In Pennsylvania the deadline for filing for a recount is Monday, while Michigan has a Wednesday deadline.
Stein, who won about 1.2 million votes in the presidential election, launched an online fundraising campaign Wednesday in an effort to "ensure the integrity of our elections" and "demand recounts in these three states where the data suggest a significant need to verify machine-counted vote totals."
READ MORE: 'RT gives voice to western dissidents': Jill Stein on EU's 'anti-propaganda' resolution
Stein says the $4.5 million in funds is required by state law to cover "filing fees alone" and claims the total cost including attorney fees is likely to reach $6-7 million.
Together, the three states carry a total of 46 electoral votes, and Trump would have to lose all three in the recount for them to impact the presidential result. Stein's fundraising success has prompted mixed responses on social media, with some people suggesting the move undemocratic in refusing to accept the results as they stand, or is too late to be effective.
Jill Stein is the friend who ruins your wedding but really shows up for you during the divorce.

— Morgan Murphy (@morgan_murphy) November 24, 2016
Others poked fun at the situation through memes or by suggesting moments they would have sought a vote recall.
I'd like a recount on the primary where Hillary cheated Bernie out of the nominatiion. #JillStein

— Roseanne Barr (@therealroseanne) November 24, 2016
Obama: "A recount? By Jill Stein?" Biden: "Yeah, I gave her a call."
Obama: "Joe..."
Biden: "Wait'll ya see Trump's face."

— George Takei (@GeorgeTakei) November 24, 2016
Hot damn! Jill Stein recount effort just passed $2 million of THE PEOPLE's money. The American people. We want a #Recount2016

— Amy Siskind (@Amy_Siskind) November 24, 2016
Honestly if Jill Stein steals all this money to fund her new folk-rap album, I will be real mad but kind of respect her

— Jill Twiss (@jilltwiss) November 24, 2016
WATCH MORE:
You can share this story on social media: