Baton Rouge approves settlement with arrested Alton Sterling protesters
Published time: 23 Nov, 2016 18:02
Edited time: 24 Nov, 2016 12:51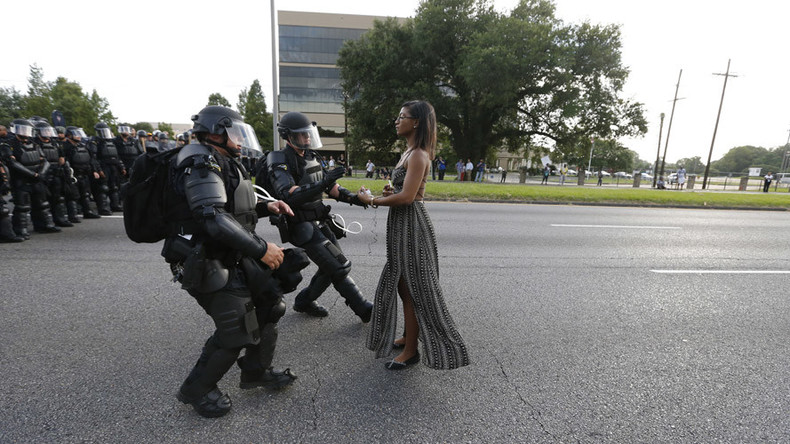 Authorities in Baton Rouge, Louisiana have approved a $100,000 settlement with 92 people arrested in July during the protests over police killing of a black man. The protests ended after a shooting that left 3 officers dead and another 3 injured.
Alton Sterling, 37, was shot and killed on July 5 in the parking lot of a convenience store, as two police officers wrestled him onto the ground and a handgun fell out of his pants. For two weeks, protesters demanded accountability for Sterling's death, with dozens arrested for blocking a highway. Some of them later filed a class-action suit against the city for wrongful arrest.
On Tuesday, Baton Rouge's Metro Council approved funds to settle the case, with the city government, Louisiana State Police, the East Baton Rouge Sheriff's Office and the District Attorney's Office contributing up to $25,000 each, according to The Advocate.
The city will pay $230 to each of the 92 plaintiffs in the lawsuit, with the rest of the money going to bonding fees, attorney's fees and other costs, according to Parish Attorney Lea Anne Batson.
Two of the twelve council members voted against the settlement, arguing that it sent the wrong message.
"To me, this encourages that type of behavior to happen in the future," Metro Councilman John Delgado told The Advocate. "I have no interest in paying $100,000 in taxpayer dollars to people who are coming into our city to protest."
According to Batson, however, the potential payout would have been a lot higher if just one of the plaintiffs could prove wrongful arrest. She also said that only a tenth of the plaintiffs were from elsewhere.
One of them was prominent Black Lives Matter activist DeRay McKesson, who said he hoped the settlement would encourage Baton Rouge to reform their arrest procedures.
"It was clear that the arrests were unconstitutional and the lawsuit aims to correct for the impact of the arrests on people's lives," McKesson told the New York Daily News on Wednesday.
McKesson was originally arrested for disorderly conduct and obstructing a highway. In light of the settlement, the East Baton Rouge district attorney announced the charges would be dropped.
The class-action lawsuit accused the police of overly aggressive response to the protests and using "unconstitutional tactics" to infringe upon their First Amendment rights of free speech and peaceable assembly.
Protests in Baton Rouge ended on July 17, when three police officers were killed and another three injured in a shooting. The attacker, who was killed in the shootout with police, was identified as former US Marine Gavin Eugene Long of Kansas City.
Police chief Carl Dabadie Jr. cited the attack to justify his department's tactics toward the protesters.
"We're doing this because we're against a force that doesn't play by the rules," he said in the aftermath. "Our militarized tactics, as they're being called, saved lives here."