Detroit police officer in critical condition after being shot in head
Published time: 23 Nov, 2016 04:45
Edited time: 19 Dec, 2016 17:47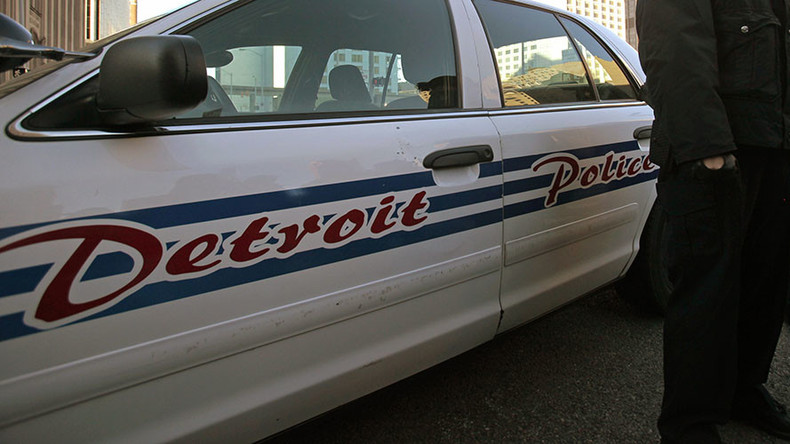 A police officer who works for Wayne State University in Detroit was shot in the head while on duty and remains in a critical condition after successful surgery. A "person of interest" is in police custody.
The officer, a five-year veteran, was on patrol at Wayne State University on Tuesday evening when he radioed that he was investigating a possible theft of navigation systems from cars and SUVs and was about to speak to someone on a bike, said Detroit Police Chief James Craig, according to Associated Press.
Officers arrived at the scene to find the officer lying face down on the ground with a gunshot wound.
"It was boom, boom, boom," Jacob Bolton, who lived nearby, told AP. "I heard some gunshots and I heard somebody hollering. But at first I thought I was dreaming."
Officers had been in the area Monday night after receiving complaints that navigational devices and other items had been stolen from cars.
"It's very troubling," Craig said. "It's a sad day, and we're just hoping for his recovery."
Deangelo Davis was named a person of interest in the case. He matches a description released earlier when police were searching for an African-American man in his 40s with a full beard. The suspect was described as wearing a white T-shirt with white and black lettering, a skull cap and a brown jacket, according to university statement posted on the school's website, according to WDIV.
Police said there was a massive manhunt on campus and even released a picture of the suspect's bicycle, blue with yellow and black lettering and stripes.
Later, police said a man they considered a "person of interest" was in custody, but it is unknown whether he was the shooter.
Deangelo Davis was at the center of another manhunt in August after police started looking for a man who shot at officers over a dice game.
Police were called to the scene following up on a report of shots being fired, according to WJBK. When they arrived at the scene, they spotted a man with an AK-47, who fired at police officers. Bullets hit the patrol car, but officers were not injured. The man with the gun then took off.
Police identified the suspect as Davies and sent out alerts that he was armed and dangerous, and that he was a convicted murderer on a case out of Minnesota, for which he was on parole.
Police tracked the man down to his home but he wasn't there. Police later said that Davis had turned himself in.
The shooting on Tuesday was just the latest in a spike of ambush-style attacks on police, following shootings of police officers in Texas and Missouri. A San Antonio detective was fatally shot, and a St. Louis officer was shot twice in the face but survived.